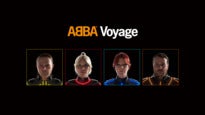 ABBA Voyage has extended its UK run through to November 2024. You can view a list of the dates powered by Ticketmaster on the ABBA Voyage details page.
The concert is made by ABBA. Although not physically in the Arena, this is how ABBA have chosen to be seen to give people the best version of themselves.
Onsale
Tickets are on sale now. Visit the event page to see dates and ticket availability. The ABBA Arena is located in the Queen Elizabeth Olympic Park in London and opens two hours before each concert begins. The closest station is Pudding Mill Lane.
How many tickets can I buy?
You can purchase up to 8 tickets for the main auditorium and general admission, and up to 44 tickets in the Dance Booths.
Accessible Tickets
The ABBA Arena has plenty of wheelchair spaces and suitable seats for a wheelchair user to transfer into. Each includes a companion seat that's free of charge. 
You can search for accessible tickets by selecting All Ticket Types to view your options.
Age Restrictions
ABBA Voyage is recommended for a general audience from the ages of six and up. Children under three will not be admitted into the venue. All persons aged 16 or under must be accompanied by an adult and may not sit in the arena on their own.
The General Admission area is standing only and not recommended for those under the age of 16.
Delivery
ABBA Voyage tickets are mobile entry, so your phone is your ticket (with exceptions for accessible or group bookings). When your tickets are ready, you'll find them in your My Account. Visit our FAQ How do I use Mobile Entry tickets? for more information on accessing and using your tickets.
These tickets will not be emailed to you or available for print.
How do I give other people in my party their tickets?
Before leaving for the event, give the tickets to your friends and family using our Ticket Transfer feature. Visit the FAQ How do I transfer tickets? for more information or watch the video below: