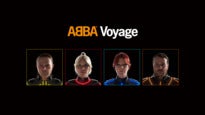 Abba Voyage will be touring the UK in 2022! 💃👑
For more information on ticket dispatch, age restrictions, ticket limits, accessible tickets & booking confirmations, continue reading.
The concert is made by ABBA. Although not physically in the Arena, this is how ABBA have chosen to be seen to give people the best version of themselves.

Ticket Dispatch ✉️
Tickets for the concert are e-tickets and your phone is your ticket. Locate your tickets in your Ticketmaster account, or in your app. When you go mobile, your tickets will not be emailed to you or available for print. Your mobile barcodes may not be available straightaway. It's nothing to worry about, just an added security feature. Your mobile tickets will appear in your account around 5 days before your event.

Age Restrictions 👶
ABBA Voyage is recommended for a general audience from the ages of 6 and up. Children under 3 will not be admitted into the venue. All persons aged 16 or under must be accompanied by an adult and may not sit in the arena on their own. The General Admission area is standing only and not recommended for those under the age of 16.

Ticket Limits ⛔️
You'll be able to book up to 8 tickets at a time for the main auditorium and general admission and up to 44 tickets in the Dance Booths.

Accessible Tickets ♿️
The ABBA Arena has plenty of wheelchair spaces & suitable seats for a wheelchair user to transfer into. Each includes a companion seat that's free of charge. These wheelchair and ambulant positions are available to book online, but if you have any specific access needs or requirements that you would like to discuss, please get in touch with access@abbavoyage.com

Booking Confirmation 👍
Once you've made your booking you will receive your booking reference number to give us if you have any queries about your booking. You will also get a booking confirmation emailed to the email address you gave us at the time of booking, but this can take up to 72 hours to receive.
**Please make sure that your email address is up to date before making a purchase.**

FAQs ❓
Where is the ABBA Arena? 🏟
The ABBA Arena is located in the Queen Elizabeth Olympic Park in London. The closest station is Pudding Mill Lane.
What days is Abba Voyage running? 📅
The regular performance schedule is: Thursday, Friday, Saturday, Sunday & Monday at 7:45pm
There will also be shows on Saturday & Sunday at 3pm.
There may be some changes to the performance schedule at certain times in the year. Please ensure you check the times carefully.
What time does will the ABBA Arena open? 🕕
The ABBA Arena will be open two hours before the concert begins. Usually 6pm evenings, 1pm matinees but please ensure you check concert times before your journey.
How long will the concert be? ⌛️
The running time for the concert is 100 minutes and there is no interval.
If I've booked seated tickets, can I go in the general admission area? 🕺
If you have purchased a seated ticket, you won't have access to the general admission area