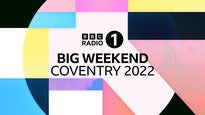 BBC Radio 1's Big Weekend is taking place at the War Memorial Park in Coventry from the 27th - 29th May 2022! 📻🎶

For more information on Ticket dispatch, age restrictions, ticket restrictions, accessible tickets, booking confirmations and more, continue reading.
Ticket Dispatch ✉️
All tickets for Radio 1's Big Weekend will be digital tickets - a smartphone is required to access these, and they may not be available to access until closer to the event date.

Age Restrictions 👶

Friday: You need to be aged 18 or over to attend this event
Saturday/Sunday: No age restriction for the event; however those aged 15 and under will need to be accompanied by an adult aged 18 or over at all times. If you are under 18 please ensure you have permission from your parent and guardian to attend. Those aged 2 and under do not require a ticket, but must be in the care of an adult aged 18 or over.

Ticket Restrictions ⛔️
Friday: Friday tickets will be sold in pairs (or individually) and you can only purchase a maximum of two tickets per person.
Saturday/Sunday: Saturday and Sunday tickets will be sold in pairs (or individually) and you can only purchase a maximum of two tickets per person for either Saturday or Sunday (but not for both).
PLEASE NOTE that any and all transactions that are detected as bot purchases, patrons creating duplicate accounts in order to purchase more than the ticket limit or any action that indicates a suspicious purchase in excess of the ticket limit will be cancelled.
Please also take a moment to read the Terms & Conditions for ticketing of BBC Radio 1's Big Weekend.

Accessible Tickets ♿️
Full accessible information for this event can be found on the Big Weekend Accessibility page.
The BBC and Festival Republic are committed to ensuring Radio 1 Big Weekend is an event that is accessible and inclusive for all that attend.
To apply for access services for this event you must first purchase a standard ticket online for the days you wish to attend. Once you have purchased your ticket, the BBC then ask you to complete and submit their online Access Requirements form which will be available in the ACCESS REQUIREMENTS APPLICATION FORM section which can be found on the Accessibility page. You will need your booking reference number from your ticket purchase to complete this form. Please be aware that there will be no phone lines to book tickets for this event.

Booking Confirmation 👍
Once you've made your booking you will receive your booking reference number to give us if you have any queries about your booking. You will also get a booking confirmation emailed to the email address you gave us at the time of booking, but this can take up to 72 hours to receive.
**Please make sure that your email address is up to date before making a purchase.**


Line Up 🎵
The line up for this years Big Weekend will be listed on the official site.

I need to plan my trips - when will the gig end? ⌛️
Unfortunately, we won't receive any details regarding the runtime until the sound check has been done, which is usually on the day of the gig.
Travel Information 🚗
Travel info can be found on the Big Weekend travel page.