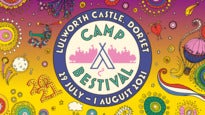 Camp Bestival have confirmed that the family-friendly festival will be back in 2021!
Camp Bestival 2021 will take place from July 29th to August 1st 2021 at Lulworth Castle Dorset. 👨‍👩‍👧‍👦
To keep up to date with the latest news and line-up announcements, head over to our Camp Bestival portal
Please Note:
Tickets for Camp Bestival 2020 remain valid for 2021 if customers opted for their tickets to be carried over to 2021 rather than opting for a refund.
For more information on ticket dispatch, age restrictions, ticket limits, accessible tickets, booking confirmations, changing your address and more, continue reading.
Ticket Dispatch ✉️
Festival tickets for Camp Bestival 2021 will be Print-at-home (or Digital Print Pass tickets if booked through our Front Gate site), and they may not be available to access until closer to the event date. Parking and Live-in vehicle passes have been sent out in the post. Customers who have booked for boutique, camp pre-pitch, Wild Tribe Teepee and backstage & hospitality will receive an email informing how to check in at the festival as customers will be on a list.

Age Restrictions 👶
Adult and Student Tickets can only be used by persons age 18 or over on day the festival starts.
Child and Teen Tickets can only be purchased by an appropriately aged adult.
By purchasing a Child (Babes In Arms, Age 4 & Under, Age 5-9, Age 10-12) Ticket or a Teen (Age 13-17) Ticket you are confirming that you are either the parent, legal guardian or nominated guardian of the teen or child for whom you are purchasing.
Ticket holders under the age of 18 can only enter the festival with the person who purchased their ticket i.e. their parent, legal guardian or nominated guardian. Any under 18 ticket holders attempting to enter the festival without this person will be denied entry to the festival. For safety reasons, any persons attempting to enter the festival with a Child or Teen Ticket holder that they are not the parent, legal guardian or nominated guardian for will be denied entry.
If your children will fall into an older age ticket bracket when the festival takes place in 2021, child tickets that were already purchased for Camp Bestival 2020 will be honoured for 2021. Age 10-12 and 13-17 Weekend and Day Tickets must be accompanied by a Ticket holding parent, guardian or nominated guardian. Full details below:
- All Child and Teen Ticket holders MUST camp in the same area as their parent, guardian or nominated guardian.
- A maximum of 4 Teen Ticket (Age 13-17) holders per adult - MUST be the parent, legal guardian or appointed guardian.
- All young persons (aged 15-17) MUST be accompanied by an adult over the age of 30 - MUST be the parent, legal guardian or nominated guardian.
- All young persons (aged 10-14) MUST be accompanied by an adult over the age of 26 - MUST be the parent, legal guardian or nominated guardian.

Accessible Tickets ♿️
You will need to purchase your ticket first, and then apply for your free companion ticket and access to the disabled facilities by clicking here.

Why can't I find my booking on my Ticketmaster account? 🤷‍♂️
Camp Bestival bookings that were made for 2020 (including those with tickets carried over to 2021) will have been made through the Ticketmaster Front Gate system, so the booking won't show on your online Ticketmaster account. To check your booking just click here. Then you can either 'Sign In' at the top of the page, with either your email address and password. If you're unsure of what details you used to make the booking click 'Manage Order' and enter your Email address, Order ID and Phone number to find your order.

How do I update my delivery address? 🏡
If you booked for Camp Bestival 2020, Our Ticketmaster Front Gate system allows customers to easily update their address details themselves. To edit Billing details just click here to sign into your account, click Order History, Order Details, Account Details and then Edit Card Info. There you will be able to update your billing card if you have booked deposit tickets, or change your address if you have moved. If your tickets have already been printed then after clicking edit you won't see anything to change, as tickets that haven't been printed yet will let you make amendments to your address.
If you've booked for Camp Bestival 2021, we can change the address on your order to a non-billing address 72 hours after the booking has been made. If your address has been changed with the card issuer already and you've just entered the incorrect address, just let us know as soon as you realise the error and we'll correct it for you.
Can I arrive on the Thursday with my Weekend Ticket? 🤷
Yes all Weekend Tickets are valid from Thursday to Monday.

Will there be any Day Tickets on sale for the festival? 🤔
Day tickets for Camp Bestival go on sale on May 7th at 10am.

I have a Day Ticket. Will I be able to camp or access the campsites? 🏕
No – unfortunately Day Tickets do not provide access to any campsites. If you want to stay overnight at the event, you'll need to purchase a Weekend Ticket.

Line Up 🎵
For full line-up information please click here to check on Camp Bestival's official site.


Please note that Ticketmaster can only deal with questions and issues regarding tickets. For all other enquiries regarding the festival, please visit the Camp Bestival website or contact them directly.