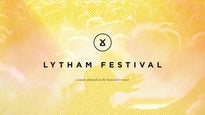 Lytham Festival have confirmed their headliners for 2020 🙌
The festival returns to the Main Proms Arena on Lytham Green from Wednesday 1st July to Sunday 5th July 2020.
Below is the current line-up so far:
1st July - Westlife
2nd July - Lewis Capaldi
3rd July - Snow Patrol
4th July - Lionel Richie
5th July - Little Mix
To keep up to date with the latest news and line-up announcements, head over to our Lytham Festival portal
For more information on ticket delivery, age restrictions, ticket limits, accessible tickets, booking confirmations, changing your address and more, continue reading.
Ticket Delivery ✉️
Please click here for our up to date delivery information! Be aware that the latest to expect them is 5 days before the event. Tickets for this event are provided directly by the promoter and not printed by Ticketmaster and may not be dispatched until ten days before the event.
Age Restrictions 👶
Under 16s must be accompanied by an adult aged 18 and over who has their own ticket.

Accessible Tickets ♿️
Ticketmaster will be processing accessible tickets online & over the phone via 0800 988 4440.
For more information about accessible tickets, please click here.

Payment Plan 💳

For more information about Payment Plans, please click here.

VIP Garden / VIP Lounge 😎
For more information about VIP tickets, please click here.

Booking Confirmation 👍
Once you've made your booking you will receive your booking reference number to give us if you have any queries about your booking. You will also get a booking confirmation emailed to the email address you gave us at the time of booking, but this can take up to 72 hours to receive.

**Please make sure that your e-mail address is up to date before making a purchase.**
Changing Address 🏡
When you are booking we need to take the address that your card is registered to for our security checks. However, we can change the address to a non-billing address 72 hours after the booking has been made.
If your address has been changed with the card issuer already and you've just entered the incorrect address, just let us know as soon as you realise the error and we'll correct it for you.

Line Up 🎵
For full line-up information please click here to check on Lytham Festival's official site once its been announced.