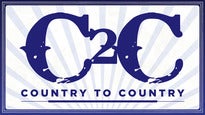 Country to County will take over London's The O2 and The OVO Hydro, Glasgow from Friday 11 – Sunday 13 March 2022.
Please Note
These shows were rescheduled from March 13th - 15th 2020. All tickets remain valid from the original dates.
For more information on Ticket dispatch, age restrictions, ticket limits, accessible tickets, booking confirmations & changing your address, continue reading.
Ticket Dispatch ✉️
Tickets will be sent closer to the event date, please contact us if you have not received your tickets by 5 days before the event. Tickets for this event are provided directly by the promoter and not printed by Ticketmaster and may not be dispatched until ten days before the event.
Age Restrictions 👶

Under 15s must be accompanied by an adult over 18.

Ticket Limits ⛔️

London - A max of 8 tickets per person and per household applies. Tickets in excess of 8 will be cancelled.
Glasgow - A max of 6 tickets per person and per household applies. Tickets in excess of 6 will be cancelled.
Please adhere to published ticket limits. Persons who exceed the ticket limit may have any or all of their orders and tickets cancelled without notice by Ticketmaster at its discretion. This includes orders associated with the same name, email address, billing address, credit card number or other information.

Accessible Tickets ♿️
London - 020 8463 3359
Glasgow - 0800 952 0110

Booking Confirmation 👍

Once you've made your booking you will receive your booking reference number to give us if you have any queries about your booking. You will also get a booking confirmation emailed to the email address you gave us at the time of booking, but this can take up to 72 hours to receive.

**Please make sure that your email address is up to date before making a purchase.**

Changing Address 🏡

When you are booking we need to take the address that your card is registered to for our security checks. However, we can change the address to a non-billing address 72 hours after the booking has been made.
If your address has been changed with the card issuer already and you've just entered the incorrect address, just let us know as soon as you realise the error and we'll correct it for you.