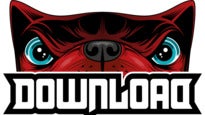 Download Festival have announced that the festival due to take place in June has been cancelled, with the following statement:
"Download Festival will no longer be taking place this year.

We've been closely monitoring this unprecedented situation and it's become clear that it just isn't possible for the 2020 festival to go ahead. This decision hasn't been taken lightly and we're beyond disappointed, we extend our heartfelt apologies to all of you - we really did try to make this work.

Please rest assured we will be back next year. Now, more than ever, we need the Download spirit to thrive and offer support to those that need it most. We'll do our best to put together an amazing line up for you in 2021 and can't wait to see you all then. Thank you, as ever, for your continued support.
You now have two options regarding your ticket purchase.
We would love for you to join us next year so you can transfer your ticket to the 2021 event. If you are on a deposit scheme we will be pausing this for a short time and will contact you again shortly with new payment dates so you can complete payment and transfer your ticket.

Or, if you would prefer a refund at this time, you can of course request that."

So what happens now?

The dates for Download 2021 are 4, 5 and 6 June 2021.
Please let us know if you would like us to exchange your booking to 2021 or a receive a full refund via the survey in a previous email you should have received, before 17:00 on 10 April 2020.

If we don't hear from you by then, we will automatically refund your booking. We will start processing refunds within 7 days after 10 April 2020. The latest you can expect to receive your refund will be 22 April.