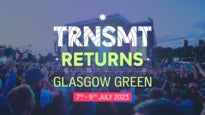 TRNSMT will return to Glasgow Green, Scotland on 7th - 9th July 2023! 🙌
To keep up to date with the latest news and line-up announcements, view camping options and more head over to our TRNSMT portal
For more information on Ticket Dispatch, Deposits, Age Restrictions, Ticket Limits, Accessible Tickets, Booking Confirmations and more, continue reading.
Ticket Dispatch ✉️
Tickets for TRNSMT 2023 will be Mobile tickets (a smartphone is required to access these), and they may not be available to access until closer to the event date.
Deposit Schemes 💳
For more information about TRNSMT Deposit Schemes, check out our Deposits page.
Age Restrictions 👶

No persons under 12 permitted. Persons aged between 12-15 year olds must be accompanied by an adult 21 and over (1 adult minimum per 4 persons ages between 12-15 years old).
A challenge 25 policy will be in operation at the gates ensuring guardians are 21 and over. Proof of age may be requested. Please bring acceptable photographic ID.
We encourage you to complete a guardianship form if you are attending with someone aged between 12-15 years old. Those who have opted in will be provided with a guardianship wrist band to allow the Event Team to contact the guardian if need be.
A challenge 25 policy will be in operation at the bars ensuring access is restricted to persons 18 and over. Proof of age may be required. Please bring acceptable photographic ID. Details on https://trnsmtfest.com/info

Ticket Limits ⛔️

There is a strict limit of 4 tickets per person and per card.
Please adhere to published ticket limits. Persons who exceed the ticket limit may have any or all of their orders and tickets cancelled without notice by Ticketmaster at its discretion. This includes orders associated with the same name, email address, billing address, credit card number or other information.

Accessible Tickets ♿️

If you would like to apply for accessible facilities and/or a free PA/Carer ticket at TRSMT, you must purchase your festival ticket first, then use the TRNSMT application form.
Customers concerned with any points can contact our Business Support Team on access@TRNSMTfest.com

Booking Confirmation 👍
Once you've made your booking you will receive your booking reference number to give us if you have any queries about your booking. You will also get a booking confirmation emailed to the email address you gave us at the time of booking, but this can take up to 72 hours to receive.

**Please make sure that your email address is up to date before making a purchase.**
What is included in VIP Tickets? 😎

You will have access to a VIP entrance with bubbly on arrival each day, along with an exclusive chill-out zone out of the main festival arena. There is also a VIP bar and food area as well as seated area and upgraded flushing toilets.

Where is TRNSMT and how do I get there? 🚗

The festival is based in Glasgow's oldest park in the city, Glasgow Green, Scotland. You can get there by walking from the city centre along with the following options:
By Car - there are eight different car parks surrounding the festival and nearby.
By Train - Glasgow Green has five train stations within a 15-minute walk. Glasgow Central, Queen Street, High Street, Argyle Street and Bridgeton Station.
By Subway - The closest subway stations are Buchanan Street and St Enoch.
By Bus - Buchanan Bus Station is 20 minutes walk from the festival site and there are also First Bus services 18, 43, 64 and 263 which will drop you five minutes from the site. You can also access the festival by coach through City Link.
Can I camp at TRNSMT? 🤔
No. TRNSMT is not a camping festival so you will have to exit and re-enter the festival site each day. There are a variety of accommodation options available in the city.

Line Up 🎵
For full line-up information please refer to TRNSMT's official site.

I need to plan my trips - when will the gig end? ⌛
Unfortunately, we won't receive any details regarding the runtime until the sound check has been done, which is usually on the day of the gig.