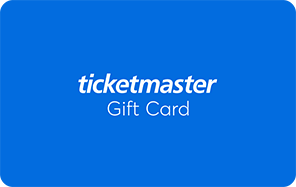 What is a Ticketmaster Gift Card?
Gift cards are a great way to give your loved ones the chance to choose tickets for whatever they want – whether their thing's music, sport or the theatre, we've got something for everyone. You can buy them in denominations of £10, £15, £25, £50, £100, £200 and £250, and they can be used as part or full payment for any tickets booked with Ticketmaster UK.


What can my Gift Card be used for?
You can use your gift card to buy most tickets available through Ticketmaster UK, along with any merchandise available on our website like t-shirts and albums.

There are a few events where we can't accept payment from a gift card. You also can't use our gift cards to book for events outside the UK.


Purchasing a Gift Card.
You can buy online at www.ticketmaster.co.uk/giftcards, or if you'd prefer to buy over the counter, our gift cards are available from lots of leading high street retailers and supermarkets. You can pick one up with your shopping:
Sainsbury's
Asda WalMart
WHSmith
Somerfield
Clinton Cards
Spar
Morrisons
Shell
McColls
Tesco (selected stores).
If you want to buy more than four cards, or more than £250 worth of cards at once, email our sales team at giftcardsalesunitedkingdom@ticketmaster.co.uk.


Using your Gift Card
Most of our gift cards can be used to book online at www.ticketmaster.co.uk. Just choose your tickets as normal, and then you'll have the option to use a gift card when you get to the payment page. The page will confirm that details of the tickets selected, and then the Credit/Debit card payment and billing detail, Below this you'll be able to select Membership Rewards Points from American Express, then under this, you can click on the Redeem Gift Card Now. Once you click this the space to enter the gift card details will appear.
You'll need to enter the gift card number from the back – this will begin either 0130, 533 or 633 – and the 3 or 4 digit security code (or pin) from the signature strip. The security code can sometimes be under a silver foil panel. Please be careful when you enter the security code because if it's entered incorrectly 3 times it will lock the card for 24 hours.
Please note that at the moment you can't use gift cards on our mobile app or our mobile site.

Like most other gift cards, you can use them to make a number of bookings until their value is used up or to pay for part of a booking.


How Can I make a booking on Ticketmaster Theatre using my gift card?

Just fill out the details in the gift card payment section. If you have more than one gift card just click add card.

Please note that even if your gift card does completely pay for the booking you will still need to add a credit/debit card when booking, but your card won't be charged.

Remember to check that your gift card is still valid. We're unable to issue refunds on any expired cards.


How do I check the balance/expiry date of my Gift Card?
It's really easy – just click here – you'll need to enter your gift card number which is on the back.
Please remember that there is no facility on our website for you to store the balance to use at a later date. So you will need to enter the card number at the time of booking.


How long is my Gift Card valid for?
Your card will be valid for 12 months from the day it was bought.
If you're the one giving the gift, please remember to pass the information on – you don't want it to go to waste!


Can I extend my Gift Card once it expires?
Normally, unfortunately we can't extend a gift card once it expires – it's valid for 12 months, but if you haven't used it by that time we can't extend the card's life. Please remember to check when your card was bought so you don't lose out.
However, under the current circumstances, we're happy to look into reissuing your gift card valid for this year if you're unable to use it. Please contact us a few weeks before your gift card is due to expire. To contact us regarding your gift card, just click here.

What is an e-Gift Card?
These are great for last minute gifts! You just order online and instead of waiting for a plastic card through the post, we'll email all the details directly to the person you're giving it to. We can do that straight away, or you can choose a specific date – it's completely up to you. We can even deliver the card directly to your loved one's Facebook wall if you want us to.

Can you replace lost Gift Cards?
Unfortunately, we can't. There's no way of tracing them, so it's really important that you keep them safe until you're ready to make a booking. Think of your Gift Card like cash.

Can I have a refund on my Gift Card?
Gift Cards can be refunded after 14 days of activation if they haven't been used and were purchased directly from us. Refunds will be issued in the form of a cheque and can take up to 6 to 8 weeks. To request a refund please get in touch and include as much information as possible.

My event's been cancelled - How will I receive my refund if I paid with a gift card?
If you paid for part of your order with a gift card, and the rest was on a credit or debit card, the full refund will be paid onto your credit or debit card.

If your whole order was paid with gift cards, the full amount will automatically be issued onto one of the cards. You can find out which gift card it was refunded to by checking the balance here.

If your gift card has since expired or you threw it away after completing the order, please get in touch with us.

Terms and Conditions
If your gift card was still in its original packaging when you received it, you should find a sheet folded up inside with the full terms and conditions printed on them. If not, or it got thrown out with the recycling, don't worry – you can check them here.
The most important thing to remember is that they're valid for 12 months from purchase – after that, they'll expire, so please don't forget!


How do I contact you with a query about my Gift Card?
If we haven't managed to answer your question here and you need more help, find out how to get in touch by clicking 'Contact Us' at the bottom of this page.
Please be sure to include any gift card numbers when you contact us or we won't be able to give you specific advice.