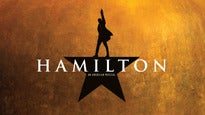 West End phenomenon Hamilton has now extended its run into 2022! ⭐
Tickets can be passed on as a gift.
As this is a new system, your order won't show in your Ticketmaster account online, however you will receive an email confirmation once your booking has processed.
Ticket Delivery
Tickets for this tour will be eTickets (a smartphone is required to access them), and they may not be available to access until closer to the date you have booked for. Please contact us if you have not received your tickets by 5 days before the event.

Accessible Tickets
For accessible bookings please visit Delmont Mackintosh Theatres access information here.

Age Restrictions
Since HAMILTON contains some strong language, the show is appropriate for ages 10+. Children under 4 are not permitted into the theatre. Children under 16 years old must be accompanied by an adult. They may not sit on their own within the auditorium. If children do have separate seats you could be refused entry.

How long is the show?
HAMILTON runs 2 hours 45 minutes including one 15-minute interval.
Performance times start at 19:30 from Monday to Saturday with an additional show on Thursdays and Saturday at 14:30.

My seats are in the Royal Circle – where is this?
The Royal Circle is the first tier of seating above the Stalls – this was originally called the Dress Circle. If you'd like to take a look at a seat map, you can do this on our website here.


Got a query about your order?