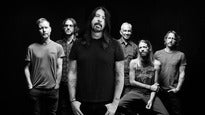 The event organisers have been in touch to let us know that, due to the sad passing of Taylor Hawkins, the upcoming Return to the UK tour has been cancelled.

Foo Fighters have issued the following statement:

"It is with great sadness that Foo Fighters confirm the cancellation of all upcoming tour dates in light of the staggering loss of our brother Taylor Hawkins.

We're sorry for and share in the disappointment that we won't be seeing one another as planned.

Instead, let's take this time to grieve, to heal, to pull our loved ones close, and to appreciate all the music and memories we've made together.

With Love,
Foo Fighters."

Given the extraordinary circumstances, our refund process is taking slightly longer than usual. You don't need to do anything; please rest assured we are working through these as quickly as possible and will issue a refund for your tickets to the method of payment you used to buy your tickets.
What happens if my card has expired?

If you've had a replacement card, or your bank account has closed, please visit here for more information.

If you sold your tickets on our Ticket Exchange and haven't already received payment, your sale will not go ahead - you will be refunded the cost of your original booking instead.