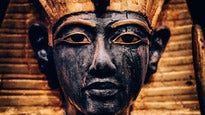 The TUTANKHAMUN: Treasures of the Golden Pharaoh exhibition is set to open at London's Saatchi Gallery on 2 November 2019, now booking until 3 May 2020. 🏺
The exhibition marks the final opportunity to see the artifacts in person before they return to Egypt for good, and celebrates 100 years since the discovery of the King's tomb. Following the end of the exhibition in May 2020, the items will move to the Grand Egyptian Museum in Cairo.
Visitors to the London exhibition will first be able to view over 150 pieces from the tomb, more than have ever before traveled outside of Egypt.
For more information on ticket dispatch, age restrictions, accessible tickets, booking confirmations, changing your address and further FAQs, continue reading.
Ticket Delivery ✉️
Please click here for our up to date delivery information! Be aware that the latest to expect them is 5 days before the event. Tickets for this event are provided directly by the promoter and not printed by Ticketmaster and may not be dispatched until ten days before the event.

Age Restrictions 👶

There is no minimum age, but children aged 12 and under must be accompanied by an adult. Under 3s go free.

Accessible Tickets ♿️

Accessible online procedure for both Wheelchair/Mobility Access ticketing:
• Change 'Ticket Quantity' to 1 Accessible ticket
• Then add the 1 Free Companion ticket (the Free Companion ticket, must be added along with the paid Accessible ticket).
By purchasing an Accessible ticket you confirm that you or a member of your party require Accessible tickets. Proof of disability, Personal Independence Payment, Disability Living Allowance Carers/Attendance Allowance/Nimbus Access Credibility Card must be shown on arrival.
Additional Accessible Information: ♿️
• Assisted or ramp access is available at the Gallery's main entrance.
• All floors have lifts and there is level access between the galleries on each floor.
• Wheelchairs are available and can be reserved upon request by telephoning 0207 811 3085 (subject to availability).
•There are two blue badge disabled parking bays to the rear of the Gallery which can be accessed via Turk's Row off Lower Sloane Street. Booking well in advance is essential. To reserve a disabled parking bay, telephone 0207 811 3085.
•Please note that you will need to check-in large rucksacks and bags with the Gallery's cloakroom on arrival.

Group Bookings 😎
Group rates starting from £12 are also available on request. Book tickets for your group by contacting our Groups team via email groups@ticketmaster.co.uk
Affordable school rates are available for pupils who are aged 18 or under. Book tickets for your School by contacting our Groups team via email education@ticketmaster.co.uk
All bookings are subject to a 10% service charge per ticket.
Peak times are Saturdays, Sundays and during the school holidays (Group rates are not available during these times).

Booking Confirmation 👍

Once you've made your booking you will receive your booking reference number to give us if you have any queries about your booking. You will also get a booking confirmation emailed to the email address you gave us at the time of booking, but this can take up to 72 hours to receive.

**Please make sure that your e-mail address is up to date before making a purchase.**

Changing Address 🏡

When you are booking we need to take the address that your card is registered to for our security checks. However, we can change the address to a non-billing address 72 hours after the booking has been made.
If your address has been changed with the card issuer already and you've just entered the incorrect address, just let us know as soon as you realise the error and we'll correct it for you.

FAQS ❓

What time does the exhibition open and close? 🕧
Monday – Wednesday & Sunday: 9.00am – last entry 5.30pm
Thursday, Friday and Saturday: 9.00am – last entry 8.30pm

What time should I arrive? ⏰
Please arrive promptly at the time displayed on your ticket.
It may take up to 30 minutes to pass through security and enter the exhibition.

How big is the exhibition? 👀
TUTANKHAMUN: Treasures of the Golden Pharaoh world tour features more than 150 original artefacts from Tutankhamun's tomb, with 60 on their first journey outside Egypt.

How long does it take to get through the exhibition? 🏃‍♀️
The tour is self-guided so you may spend as much time as you like enjoying the exhibition. The average length of stay is about 2 hours (30 mins to enter and between 60 - 90 minutes in the exhibition).

Is there a clockroom? 👜
There is a small clockroom for small bags and coats (we cannot accept suitcases of any size).
Please check the weather before your visit and prepare accordingly. Due to the popularity of the exhibition you may be outside in a line before entry.

Can I bring my camera to the exhibition? 📷
Works may be photographed for personal or private use only. Due to the delicate nature of the artefacts, flash photography is not permitted.
Filming is not permitted

Can I bring my child's buggy? 👼
We strongly advise that you do not bring a buggy as you will not be able to take it into the exhibition space.

Are audio guides available? 🔊
Audio guides are available to purchase for £5 in advance or £6 on the day. They are available in 4 languages: English, French, Mandarin and Spanish.

Will I be able to see Tutankhamun's funerary mask? 🤔
The Funerary Mask is at its home at the Egyptian Museum in Cairo and will eventually go on view with the entire Tutankhamun collection at the forthcoming Grand Egyptian Museum. It is a very popular object that traveled in the 1970s and many people have fond memories of it. Because it is such an iconic world treasure, the Egyptian government has decided it will never travel again so that it can remain for posterity.

Are there places to sit and rest at the exhibition? 🛋
Yes, there will be benches positioned at different stages of the exhibition so visitors can take a break.
There will also be a cafe opening after 7th November within the exhibition.

Are pets allowed in the exhibition? 🐕
Only guide dogs are permitted.

Directions & Parking 🚗
Nearest tube: SLOANE SQUARE UNDERGROUND
The gallery is 3-4 minutes walk from Sloane Square Underground
(District and Circle lines) and 10-12 minutes' walk from Victoria
(Victoria, District & Circle lines).
Nearest rail: VICTORIA STATION

Parking: Whitelands House Car Park
Whiteland House
Cheltenham Terrace
London
SW3 4QX
Buses: 11,19,22,49,211,319 (King's Road)
11,137,211 (Lower Sloane Street)
Venue Address: Duke Of York's HQ, King's Rd, London SW3 4RY