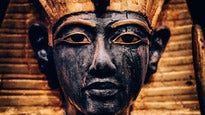 The TUTANKHAMUN: Treasures of the Golden Pharaoh exhibition is set to open at London's Saatchi Gallery on 2 November 2019, now booking until 3 May 2020. 🏺
The exhibition marks the final opportunity to see the artifacts in person before they return to Egypt for good, and celebrates 100 years since the discovery of the King's tomb. Following the end of the exhibition in May 2020, the items will move to the Grand Egyptian Museum in Cairo.
Visitors to the London exhibition will first be able to view over 150 pieces from the tomb, more than have ever before traveled outside of Egypt.
Due to the recent UK government advice to avoid social gatherings and venues in light of global health concerns regarding COVID-19 (coronavirus), the Tutankhamun: Treasures of the Golden Pharaoh exhibition at Saatchi Gallery will be closed until further notice. Customers who purchased tickets for sessions between 18th March - 3rd May will be automatically refunded as soon as possible. We thank you for your support and patience during this time.