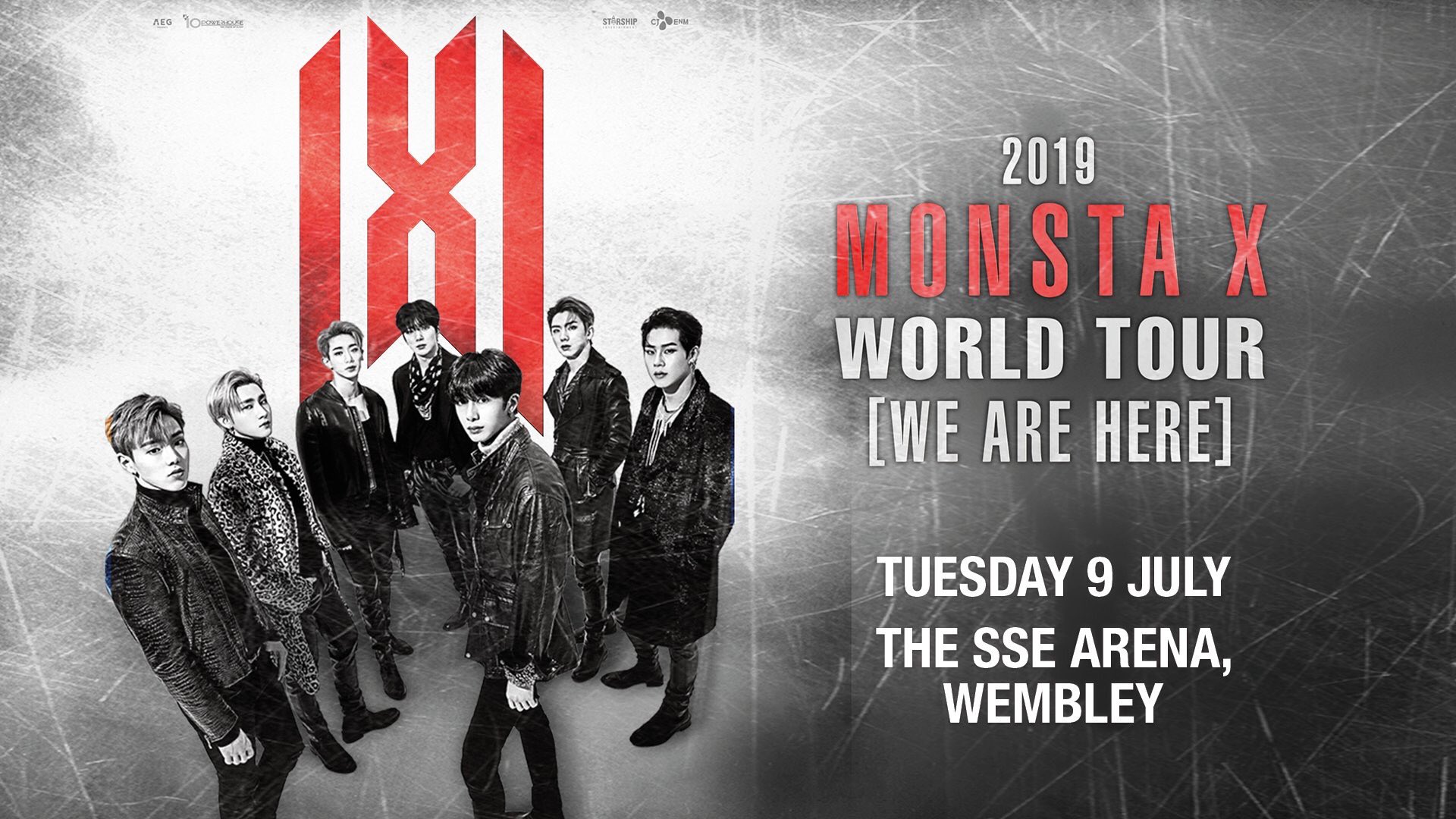 MONSTA X will be playing in the UK for one night only as part of their 2019 World Tour.

Here's the date:

9 July 2019 – The SSE Arena Wembley, London

Tickets are available now through Ticketmaster.co.uk
To improve your chances to book during busy events please click here. 


Accessible Info

The SSE Arena Wembley operates a dedicated disabled customer booking line.
For all enquiries or to book tickets, please call 020 8782 5629.
This phone line is available Monday to Friday: 10:30 - 16:30.
Age Restrictions
All ages. Strictly no under 14s on the Standing Floor (u16s to be accompanied by an adult / u14s to be accompanied by an adult and seated)
Ticket Limits
There is a ticket Limit of 6 tickets per person and per credit card on this event
Please adhere to published ticket limits. Persons who exceed the ticket limit may have any or all of their orders and tickets cancelled without notice by Ticketmaster at its discretion. This includes orders associated with the same name, e-mail address, billing address, credit card number or other information.
Seating Info


Please be advised that Wembley Arena seating is divided into bays:
- Blocks A and B are not raked and other customers may stand during the performance.
- Blocks C and D are tiered behind these.
- Block E represents the East Terrace. Higher rows may not be suitable for patrons who cannot manage steps or who are unhappy with heights.
- Blocks N and S are within the tiered, side seating of the Arena. Even numbered bays (i.e. N6) are in the lower tier; odd numbered bays (i.e. N7) will be in the upper tier. Upper Tier seats are not suitable for those who cannot manage steps and the higher rows are not suitable for those who are unhappy with heights
Please ensure the seats are appropriate for you.
Booking Confirmation


Once you've made your booking you will receive your booking reference number to give us if you have any queries about your booking. You will also get a booking confirmation emailed to the email address you gave us at the time of booking, but this can take up to 72 hours to receive. 
Please make sure that your e-mail address is up to date before making a purchase.
Ticket Dispatch

Please
click here
for our up to date dispatch information! Be aware that the latest to expect them is 5 days before the event.
Tickets for this event are provided directly by the promoter and not printed by Ticketmaster and may not be dispatched until ten days before the event.
Changing Address
When you are booking we need to take the address that your card is registered to for our security checks. However, we can change the address to a non-billing address 72 hours after the booking has been made. 
If your address has been changed with the card issuer already and you've just entered the incorrect address, just let us know as soon as you realise the error and we'll correct it for you.

I need to plan my trip - when will the gig end?
Unfortunately, we won't receive any details regarding the curfew until the sound check has been done, which is usually on the day of the gig.