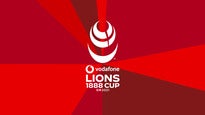 The Vodafone Lions 1888 Cup - The British & Irish Lions v Japan match at BT Murrayfield Stadium in Edinburgh will take place on Saturday 26 June 2021
The event will now be going ahead at a reduced capacity, and we've contacted customers on the 28th of May to advise whether their orders will remain valid for the event, or cancelled due to the reduced capacity.
The allocation process was carried out in accordance with Scottish Government guidelines and the Ticket Terms and Conditions.
For customers who have had their order cancelled, a refund will be automatically processed within 14 working days to the original payment card you used to purchase your tickets, so you won't need to do anything further.
Below are some FAQs for this event:
I have been successful in the revised allocation process, how do I know what seats I have been allocated?
Individual seats within the selected price category were assigned to ticket purchasers at the time of sale. However, due to the seating being allocated as singles to ensure social distancing compliance, seat locations for successful ticket purchasers will be changed. Seats will be reallocated within the original price category purchased and your Ticketmaster account will be updated with your new seat details closer to the match. You will receive an email once this has been completed. If you no longer want to attend the match you can request a refund by referring to the email sent to you on the 28th of May.
How will I receive my ticket(s)?
Tickets will be emailed to you by Scottish Rugby within 5-7 days of the match. All tickets will be digital therefore you must download to your mobile or print at home in advance of matchday. Please note, match tickets remain subject to cancellation should the evolution of the pandemic result in a change to areas of concern from a public health perspective, as identified by the Scottish Government
What time will the Vodafone Lions 1888 Cup kick off and when will gates open?
Kick-off time is 15:00 BST. It is important that entry to the Ground is carefully managed to avoid crowds and queuing at entrance points. Spectators must only arrive at the Ground within the designated time window which will be printed on each ticket. Failure to arrive for admission to the Ground during this designated time window will lead to spectators being refused entry to the Ground
If you have any questions about your booking, you can find out how to get in touch by clicking 'Contact Us' below.