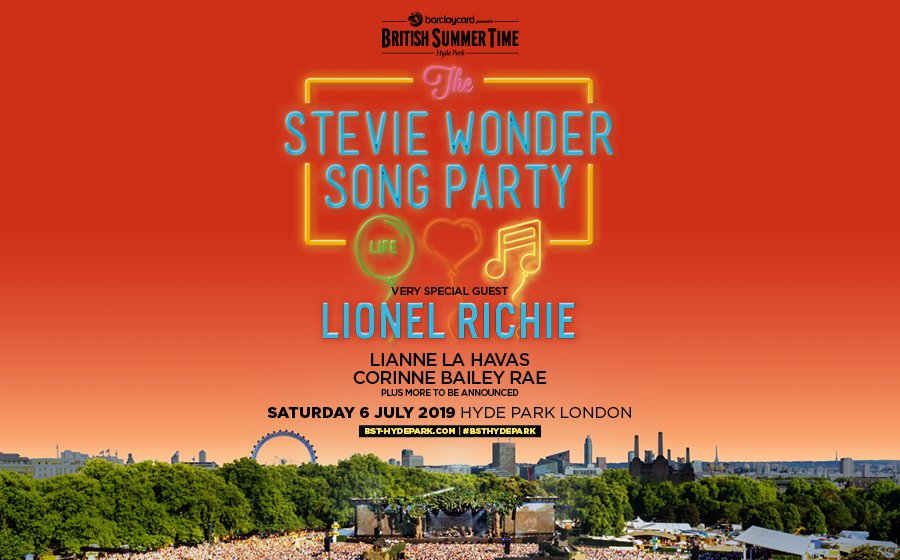 Stevie Wonder will headline Barclaycard presents British Summer Time Hyde Park on Saturday 6 July 2019, joined by very special guest Lionel Richie, Lianne La Havas and Corinne Bailey Rae.

The duo join four previously announced standalone shows in the Barclaycard presents British Summer Time Hyde Park series, which now looks as follows.

Here are the Barclaycard presents BST Hyde Park dates so far:

5 July 2019 – Celine Dion + Josh Groban and Claire Richards
6 July 2019 – Stevie Wonder + Lionel Richie + Lianne La Havas + Corinne Bailey Rae
7 July 2019 – Barbra Streisand + Bryan Ferry and Kris Kristofferson
13 July 2019 – Florence + The Machine & The National + Lykke Li, Khruangbin, Nadine Shah, Blood Orange, Aldous Harding, Marlon Williams, Let's Eat Grandma and Goat Girl
14 July 2019 – Robbie Williams + Black Eyed Peas, Keane, Texas and Feeder

Tickets for Stevie Wonder and Lionel Richie at BST Hyde Park are available now. Tickets for all other shows are also available now. Grab all through Ticketmaster.co.uk.


Age Restrictions

Anyone under 16 must be accompanied by a parent or guardian (18 or over).

Children under the age of 2 will be admitted free of charge and do not need a ticket. All children aged 2 and over must have their own ticket.


Ticket Limits

Please note: There is a ticket Limit of 6 tickets per person and per credit card on this event

Please adhere to published ticket limits. Persons who exceed the ticket limit may have any or all of their orders and tickets cancelled without notice by Ticketmaster in its discretion. This includes orders associated with the same name, e-mail address, billing address, credit card number or other information.


Accessible Tickets

Please click here for more info.


Booking Confirmation

Once you've made your booking you will receive your booking reference number to give us if you have any queries about your booking. You will also get a booking confirmation emailed to the email address you gave us at the time of booking, but this can take up to 72 hours to receive. 

Please make sure that your e-mail address is up to date before making a purchase.


Ticket Dispatch

Please click here for our up to date dispatch information! Be aware that the latest to expect them is 5 days before the event.


Changing Address

When you are booking we need to take the address that your card is registered to for our security checks. However, we can change the address to a non-billing address 72 hours after the booking has been made.

If your address has been changed with the card issuer already and you've just entered the incorrect address, just let us know as soon as you realise the error and we'll correct it for you.


Door Times 

Gates Open: 13:00 – please note the gates will be open approx. 60 minutes early for those customers who select Primary Entry.


I need to plan my trip - when will the gig end?

Unfortunately, we won't receive any details regarding the curfew until the sound check has been done, which is usually on the day of the gig.