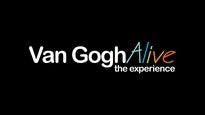 Van Gogh Alive will be taking place at Kensington Gardens between June 4th - September 26th 2021🎨
For more information on ticket dispatch, age restrictions, ticket limits, accessible tickets, booking confirmations & FAQs continue reading.
Ticket Dispatch ✉️
Tickets for Van Gogh Alive will be Mobile tickets - a smartphone is required to access these. There will be no physical tickets for these shows and they may not be available to download until closer to the date you have booked for.

Age Restrictions 👶
There is no minimum age to visit the exhibition. Children under 5 years old are admitted FREE of charge when accompanied by an Adult. However, they still need a ticket so numbers can be managed safely.

Ticket Limits ⛔️
A max of 6 tickets per person and per household applies. Tickets in excess of 6 will be cancelled.

Please adhere to published ticket limits. Persons who exceed the ticket limit may have any or all of their orders and tickets cancelled without notice by Ticketmaster at its discretion. This includes orders associated with the same name, email address, billing address, credit card number or other information.

Accessible Tickets ♿️
Book online at https://www.ticketmaster.co.uk/van-gogh-alive/ subject to availability.

Booking Confirmation 👍
Once you've made your booking you will receive your booking reference number to give us if you have any queries about your booking. You will also get a booking confirmation emailed to the email address you gave us at the time of booking, but this can take up to 72 hours to receive.
**Please make sure that your email address is up to date before making a purchase.**

FAQs ❓
What are the opening hours for Van Gogh Alive? 🕘

Van Gogh Alive opens at 10:00 each day and accepts last entry at 20:00 on Sunday - Thursday and 21:00 on Friday - Saturday.
How much time do I need to see the experience? ⏳

Individual visit times will vary, but most visitors can anticipate spending 60 – 90 minutes. The main feature of the exhibition lasts approximately 45 minutes.
Can I take photos and videos? 📷

Yes, you are more than welcome to take photos and videos inside the experience. Please be considerate of other visitors when taking photos. When posting images and comments on social media, please use the hashtag #vangoghalivelondon so more people can see the exhibition through your eyes. Please be advised that flash photography is not permitted inside the SENSORY4™ gallery.
Is my ticket valid for another day? 📅

Tickets are purchased for a specific time slot and will not be valid for entry on another day or time. This is required so we can ensure a limited number of visitors within the venue, and to offer you the most memorable and safe experience. We cannot guarantee access to the experience outside the hours indicated on your ticket.
What if I can't make the time slot I've booked or need to reschedule? 🎫
Just click 'Contact Us' below to get in touch regarding your booking.