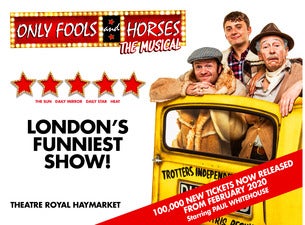 Only Fools and Horses the Musical
Theatre Royal Haymarket, London - Present till 6th February 2021

We try and dispatch tickets as soon as possible, usually within 10 days of booking. So you'll receive your tickets soon if you haven't already. If you still haven't received them by 5 days before your event or 5 days before you leave your address if you're travelling soon, please contact us and we'll be happy to help. Any bookings made 10 days before the show date we'll send the once our 72-hour security checks have been completed, so we advise you contact us 3 days before the events to make sure there is still enough time for the tickets to be delivered. For any recent bookings, we'll continue to send tickets out as and when we receive them.




Open Goal Live
The SSE Hydro, Glasgow - 18th September

We've now sent the majority of tickets out for this gig! Don't worry if you don't have yours just yet though – we do send them out in batches, so there are still some tickets that haven't gone out just yet. We'll update this page when all the tickets have gone out, and the Order Status in your account will change to show that your tickets have been printed. The latest you should receive your tickets is around 5 days before the gig, so only contact us then if you still haven't received your tickets.
If you chose secure post, you'll also receive an email from Royal Mail with your tracking info so you can keep an eye on their progress.
Some tickets will be going out by secure delivery - click here for more info!
Why has my friend received their tickets before me?