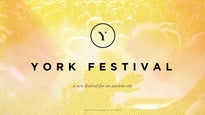 York Festival 2020
York Sports Club - 19th to 21st July

We'll be sending the tickets out a bit nearer to the time. As soon as we receive them in, we'll update this page to let you know. You'll also see the Order Status in your account change to show that your tickets have been printed. The latest you should expect your tickets is around 5 days before the show, but we always aim to send them out sooner than that wherever possible.
If you live overseas at an International address please contact us 5 days before you leave for the show.
Can I have my tickets sent out sooner?
The tickets are a gift and they haven't been sent yet.