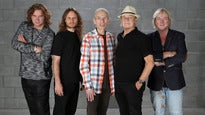 Yes
York Barbican - 19th May 2021
Sage Gateshead - 20th May 2021
Liverpool Philharmonic Hall - 22nd May 2021
Glasgow Royal Concert Hall - 28th May 2021

We've now dispatched all tickets! So you'll receive your tickets soon if you haven't already. If you still haven't received them by 5 days before your event, please contact us and we'll be happy to help.
For any recent bookings, we'll continue to send tickets out as and when we receive them.
Some tickets will be going out by secure delivery - click here for more info!
Why has my friend received their tickets before me?