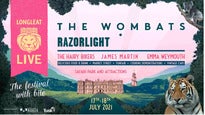 The event organisers have been in touch to let us know that the festival on 17-18 July 2021 has been cancelled.

The following statement has been issued:

"It is with regret we have taken the difficult decision to cancel this year's 'Longleat Live' event, which was due to take place on 17th & 18th July.

The safety of our guests, suppliers, artists and staff must always be our primary concern.

As part of our ongoing Covid -19 precautions, we will be limiting daily attendance to Longleat when we re-open to visitors from the 12th April in order to ensure safe social distancing on site. We simply would not be able to have these safety precautions in place for such a large event as Longleat Live.

We hope ticket holders understand why we have taken this decision and we are looking forward to bringing events, such as Longleat Live back in the future.

You may have already received a refund, however if you haven't this will be issued through our ticket partners, Ticketmaster within 22 days. "

Given the extraordinary circumstances, our refund process is taking slightly longer than usual. You don't need to do anything; please rest assured we are working through these as quickly as possible and will issue a refund for your tickets to the method of payment you used to buy your tickets.

What happens if my card has expired?
If you've had a replacement card, or your bank account has closed, please visit here for more information.