**PLEASE NOTE THAT TICKETS WON'T BE DISPATCHED UNTIL MUCH CLOSER TO THE EVENT, WE'LL CONTACT YOU ONCE TICKETS ARE READY**

BTS have announced that the BTS WORLD TOUR 'LOVE YOURSELF: SPEAK YOURSELF' will be coming to London this summer. 

Due to phenomenal demand, BTS have announced a second BTS WORLD TOUR 'LOVE YOURSELF: SPEAK YOURSELF' show in London this summer.
Here are the dates:
1 June 2019 – Wembley Stadium, London
2 June 2019 – Wembley Stadium, London
For more information about BTS, visit the Blog here.

Tickets to see BTS perform at Wembley Stadium, London are available now through Ticketmaster.co.uk.


Important Information

BTS tickets are likely to be very popular, so we've listed some information and tips below to help fans get into the shows.

When will tickets be available?
Tickets for the second BTS London show will be available from 8:30am GMT Friday 8 March 2019 through Ticketmaster.co.uk.

How much will BTS tickets cost?
£160 | £130 | £100 | £85 | £65 | £45 + fees

Are VIP tickets available?
Ticketmaster UK Limited is selling VIP packages on behalf of VIP Nation who are solely responsible for delivering the package and the quality of the products and services to be provided.
Please see the terms and conditions of VIP Nation by clicking here.

If you have any queries relating to VIP Packages only, please contact vipnation@livenation.co.uk

Soundcheck Package:
* One top tier seated ticket (ticket face value £160)
* Access to Artist Soundcheck
* Early entry to the venue
* Soundcheck laminate and lanyard
* Designated check-in and on-site event staff

* Times included on ticket pages or confirmation emails will reflect Door or Show Times and may differ from the VIP package time. VIP Nation will contact you via email with full timings within 5 days of the event. For VIP Package terms and conditions please click here

Ticket Types
All tickets will be physical tickets at time of onsale. Your tickets will be posted out closer to the show.

Payment Methods:
All national and international credit and debit cards will work (excluding Maestro and Switch). PayPal is not an accepted payment method.

Devices:
Tickets can be purchased via desktop or mobile. 

Ticket Delivery Options
Tickets can be delivered to both national and international addresses.  You'll select which option at the time of purchase.

Ticket Limits
There is a ticket limit of 6 tickets per person and per credit card for each show.
Please adhere to published ticket limits. Persons who exceed the ticket limit may have any or all of their orders and tickets cancelled without notice by Ticketmaster at its discretion. This includes orders associated with the same name, e-mail address, billing address, credit card number or other information.

Age Restrictions
Guests under 14 must be accompanied by an adult (18+) at all times.
ID:
It's always safe to take ID, just in case. Acceptable forms of ID include a passport or driving license.

Seating Allocation
This show is all allocated seating - when purchasing tickets you can select the ticket type you would like to buy and you'll be allocated the best available seats.

Venue Layout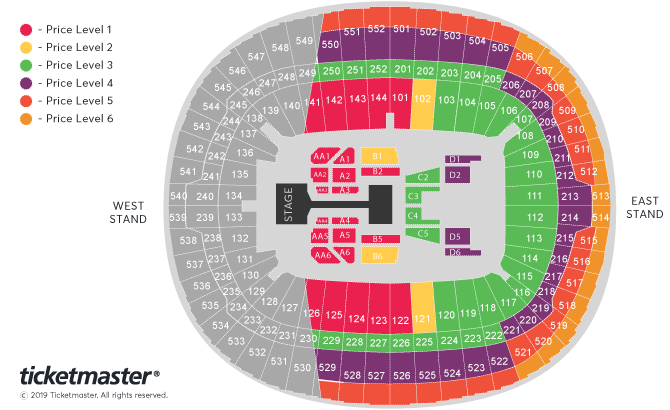 Don't refresh your screen
Once tickets go on sale, stick to one window when you're being pushed through the virtual queue and always resist the urge to refresh. Hitting the refresh button means you'll lose your place in the queue and, as frustrating as it can get, patience is the only way to win this game.
Ticketmaster is equipped with sophisticated systems that are designed to manage and process ticket purchases as quickly as possible. The queuing system that appears on your screen is actually doing something and will place you at the front of the line as soon as possible.

At busy on-sale periods, Ticketmaster will suggest the Best Available seats for you to purchase,. If you'd like to see the full range of available ticket prices, please click the arrow to the right to view the other options.




Check when tickets are available – even once they're on sale
Keep up-to-date with the latest ticket news on Twitter. If anything changes with these tickets – anything at all – our social followers will be the first to know about it.
We send real-time updates as the general sales happens, including any (unlikely) technical difficulties that might occur and where the best availability is for tickets.


Accessible Tickets
For all Wheelchair/Ease of Access seating, please call 0800 093 0824.
Before purchasing your tickets in the disabled section, the Venue will require proof of disability to ensure that all allocated seating is being provided to their accessible guests. If you have not already supplied this information please scan and email details to The FA at the details below. You will still need to call in on the on-sale day to purchase your ticket(s) even if you provide your proof of disability prior to this day.
Please send us your proof of disability by email to: Email:
POD@wembleystadium.com
Please note: They accept photocopies of Disability Living Allowance, PIP or an original letter from your GP or hospital. They do not accept Blue Badge permits as proof. IMPORTANT: If you have previously purchased tickets with them and already have a customer number, you do not need to send in proof of disability again. If you cannot remember your customer number, they can look it up when you call."
Wembley Stadium has wheelchair accessible spaces with an equal number of adjacent seats available for Personal Assistants. Wembley Stadium also have enhanced amenity seats for ambulant disabled visitors, each disabled seating area has a dedicated member of staff. Staff on disabled bays are specifically trained to meet the requirements of disabled visitors. Wembley Stadium has 147 accessible toilets within the Stadium, all accessible via RADAR keys. There are also 193 Ambulant Toilets. The toilets are available on all levels. More info:
https://help.wembleystadium.com/support/home

Booking Confirmation


Once you've made your booking you will receive your booking reference number to give us if you have any queries about your booking. You will also get a booking confirmation emailed to the email address you gave us at the time of booking, but this can take up to 72 hours to receive. 
Please make sure that your e-mail address is up to date before making a purchase.


Changing Address

When you are booking we need to take the address that your card is registered to for our security checks. However, we can change the address to a non-billing address 72 hours after the booking has been made. 
If your address has been changed with the card issuer already and you've just entered the incorrect address, just let us know as soon as you realise the error and we'll correct it for you.


I need to plan my trip - when will the gig end?
Doors: 16:30
Showtime: 19:30.

The show duration will be approximately 150-160 minutes.