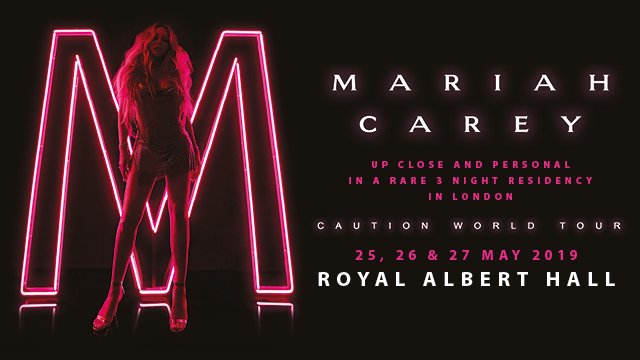 As part of her Caution World Tour, Mariah Carey will take to the stage at the iconic Royal Albert Hall this May for an intimate three-night residency.

Here are those 2019 dates in full:
25 May 2019 – Royal Albert Hall, London
26 May 2019 – Royal Albert Hall, London
27 May 2019 – Royal Albert Hall, London

Tickets for Mariah Carey's London residency at the Royal Albert Hall are on sale now. Get yours through Ticketmaster.co.uk 

Please ensure you read the ticket information carefully to ensure you have selected the correct option for you.


Accessible Tickets

Royal Albert Hall, London - 0207 070 4410

To better accommodate your needs, the Royal Albert Hall has requested that all Wheelchair/Ambulant ticketing requests be solicited only through their representatives. Please contact a Royal Albert Hall representative for further help with your ticket purchase.

Advance ticket purchase may be required.


VIP Info

Ticketmaster UK Limited is selling VIP packages on behalf of VIP Nation who are solely responsible for delivering the package and the quality of the products and services to be provided.
Please see the terms and conditions of VIP Nation by clicking here.

If you have any queries relating to VIP Packages only, please contact vipnation@livenation.co.uk

Times included on ticket pages or confirmation emails will reflect Door or Show Times and may differ from the VIP package time. VIP Nation will contact you via email with full timings within 5 days of the event. For VIP Package terms and conditions please click here.


Ticket Limits

Please note: There is a ticket limit of 6 tickets per person and per credit card on this event
Please adhere to published ticket limits. Persons who exceed the ticket limit may have any or all of their orders and tickets cancelled without notice by Ticketmaster at its discretion. This includes orders associated with the same name, e-mail address, billing address, credit card number or other information.


Booking Confirmation

Once you've made your booking you will receive your booking reference number to give us if you have any queries about your booking. You will also get a booking confirmation emailed to the email address you gave us at the time of booking, but this can take up to 72 hours to receive. 

Please make sure that your e-mail address is up to date before making a purchase.


Ticket Dispatch

Please click here for our up to date dispatch information! Be aware that the latest to expect them is 5 days before the event.

Tickets for this event are provided directly by the promoter and not printed by Ticketmaster and may not be dispatched until ten days before the event.


Changing Address

When you are booking we need to take the address that your card is registered to for our security checks. However, we can change the address to a non-billing address 72 hours after the booking has been made. 
If your address has been changed with the card issuer already and you've just entered the incorrect address, just let us know as soon as you realise the error and we'll correct it for you.


I need to plan my trip - when will the gig end?

Unfortunately, we won't receive any details regarding the runtime until the sound check has been done, which is usually on the day of the gig.
 
Find out more about Mariah Carey on the blog.