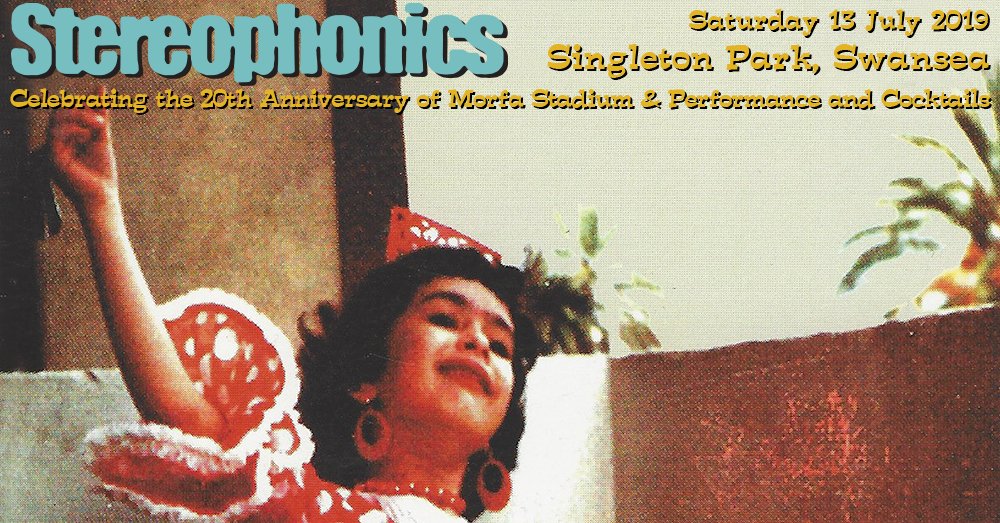 Stereophonics will be playing a one-off show in Swansea in 2019, celebrating the 20th Anniversary of Morfa Stadium & Performance and Cocktails. 


Here's the date:

13th July 2019 - Singleton Park, Swansea


Tickets for Stereophonics are on sale now through Ticketmaster.co.uk


Important Information

Please Note: TERMS & CONDITIONS
1. Your ticket purchase constitutes a personal, revocable license and, at all times, remains the property of the promoters.
2. Your ticket/s are sold by the promoters directly to you the consumer. Any tickets purchased by business or traders in breach of the terms and conditions of ticket sale will be cancelled. By accepting these terms and conditions you confirm that you are a consumer.
3. Your ticket/s will IMMEDIATELY BECOME INVALID if resold OR OFFERED FOR SALE unless the sale is through the official re-sale channels advertised.
4. For a ticket to be valid the lead booker must at any point be able to provide the below, this includes on arrival at the show to gain admission;
i) The payment credit or debit card used for the purchase and shown on the booking confirmation as it is your ticket/s.
ii) The booking confirmation.
iii) A valid photo ID matching the customer name on the booking confirmation and the credit card.



Accessible Tickets
Any customers wishing to purchase a disabled access or wheelchair platform ticket for Stereophonics, please get in touch with the promoter at Accessibility@kilimanjarolive.co.uk



Ticket Limits
Please note: There is a ticket Limit of 6 tickets per person and per credit card on this event
Please adhere to published ticket limits. Persons who exceed the ticket limit may have any or all of their orders and tickets cancelled without notice by Ticketmaster in its discretion. This includes orders associated with the same name, e-mail address, billing address, credit card number or other information.



Age Restrictions

All ages. Under 16s must be accompanied by an adult.



Booking Confirmation

Once you've made your booking you will receive your booking reference number to give us if you have any queries about your booking. You will also get a booking confirmation emailed to the email address you gave us at the time of booking, but this can take up to 72 hours to receive. 
Please make sure that your e-mail address is up to date before making a purchase.


Ticket Dispatch

Please click here for our up to date dispatch information! Be aware that the latest to expect them is 5 days before the event.


Changing Address

When you are booking we need to take the address that your card is registered to for our security checks. However, we can change the address to a non-billing address 72 hours after the booking has been made. 
If your address has been changed with the card issuer already and you've just entered the incorrect address, just let us know as soon as you realise the error and we'll correct it for you.