After a storming debut last summer, organisers of Arcadia London have confirmed the initial line-up for their two day festival, returning to the capital in 2019.
The Helix stage, the house and techno heartbeat of the festival, will welcome Jamie Jones, Hot Since 82, Alan Fitzpatrick, and special guest Sasha on Saturday 4 May 2019.
DJ EZ, Sub Focus, Flava D and special guest Lethal Bizzle will take to Radium, Arcadia's bass ignition, on Sunday 5 May 2019.
The two-day extravaganza takes place at London's Queen Elizabeth Olympic Park.
Arcada is an immersive experience like no other. Featuring over the top set pieces, lightning bolts, flames and some performances from some of the best DJs and producers on the planet.

The centrepiece of the festival is the iconic spider. Regular Glastonbury will have experienced the metal behemoth, and this year, Arcadia London will be the structures' only UK stop. Last year's 360 degree indoor experience The Reactor has been updated for 2019 and the London event will be the only chance to see the famous Metamorphosis show in the UK.

Here are the dates:
4 May 2019 – Queen Elizabeth Park, London
5 May 2019 – Queen Elizabeth Park, London

Tickets for Arcadia London are available now through Ticketmaster.co.uk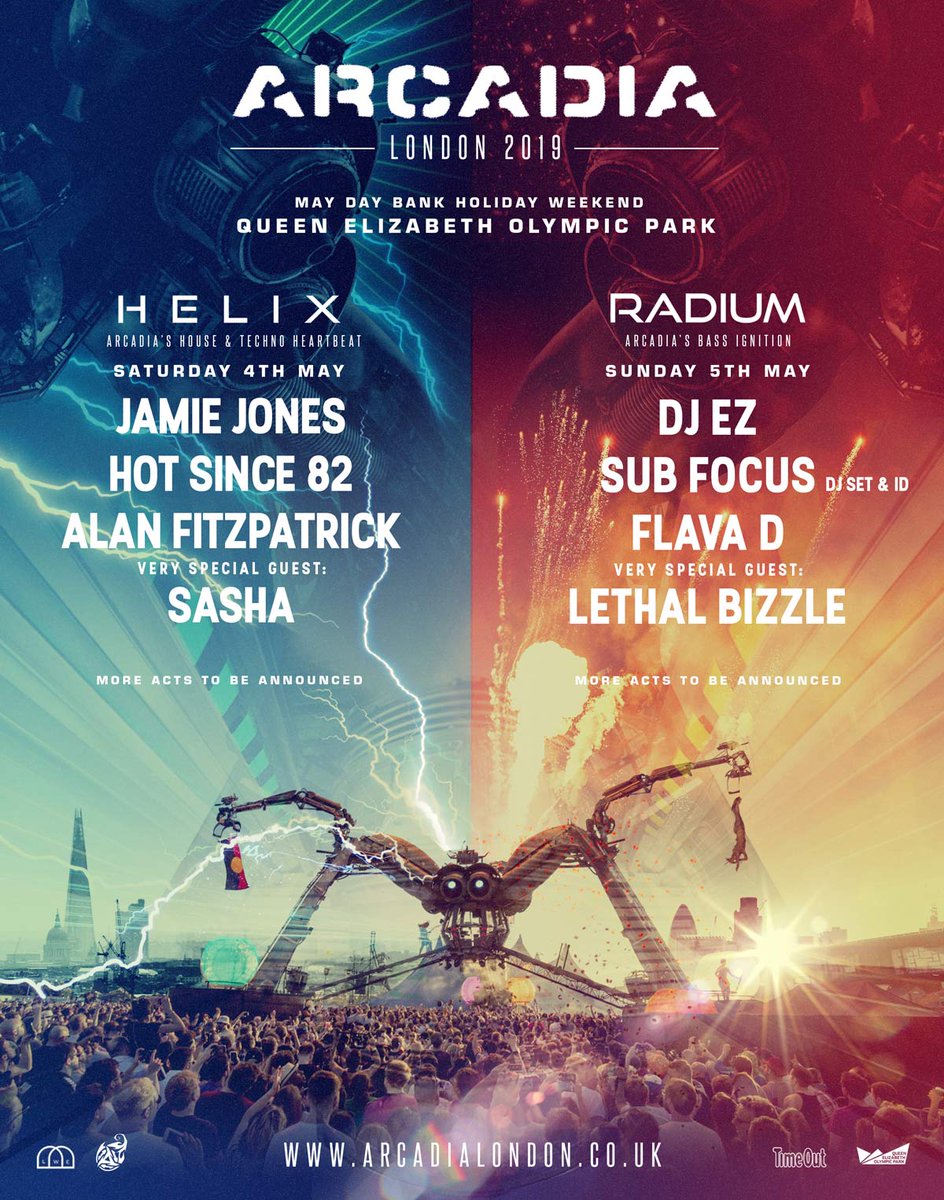 Ticket Limits
Please note: There is a ticket limit of 6 tickets per person and per credit card on this event
Please adhere to published ticket limits. Persons who exceed the ticket limit may have any or all of their orders and tickets cancelled without notice by Ticketmaster in its discretion. This includes orders associated with the same name, e-mail address, billing address, credit card number or other information.


Accessible Tickets
Accessible Ticketing For further information and booking details please visit
www.elrowtownlondon.com
Age Restrictions
18+ Only.
Booking Confirmation
Once you've made your booking you will receive your booking reference number to give us if you have any queries about your booking. You will also get a booking confirmation emailed to the email address you gave us at the time of booking, but this can take up to 72 hours to receive. 
Please make sure that your e-mail address is up to date before making a purchase.
Ticket Dispatch
Please
click here
for our up to date dispatch information! Be aware that the latest to expect them is 5 days before the event.
Changing Address
When you are booking we need to take the address that your card is registered to for our security checks. However, we can change the address to a non-billing address 72 hours after the booking has been made. 
If your address has been changed with the card issuer already and you've just entered the incorrect address, just let us know as soon as you realise the error and we'll correct it for you.
I need to plan my trip - when will the gig end?
The runtime is as follows: 12:00pm - 10:30pm.
Last Entry: 6:00pm.
Please note: Times are subject to change.
Can't find what you're looking for? Contact us by
clicking here
.