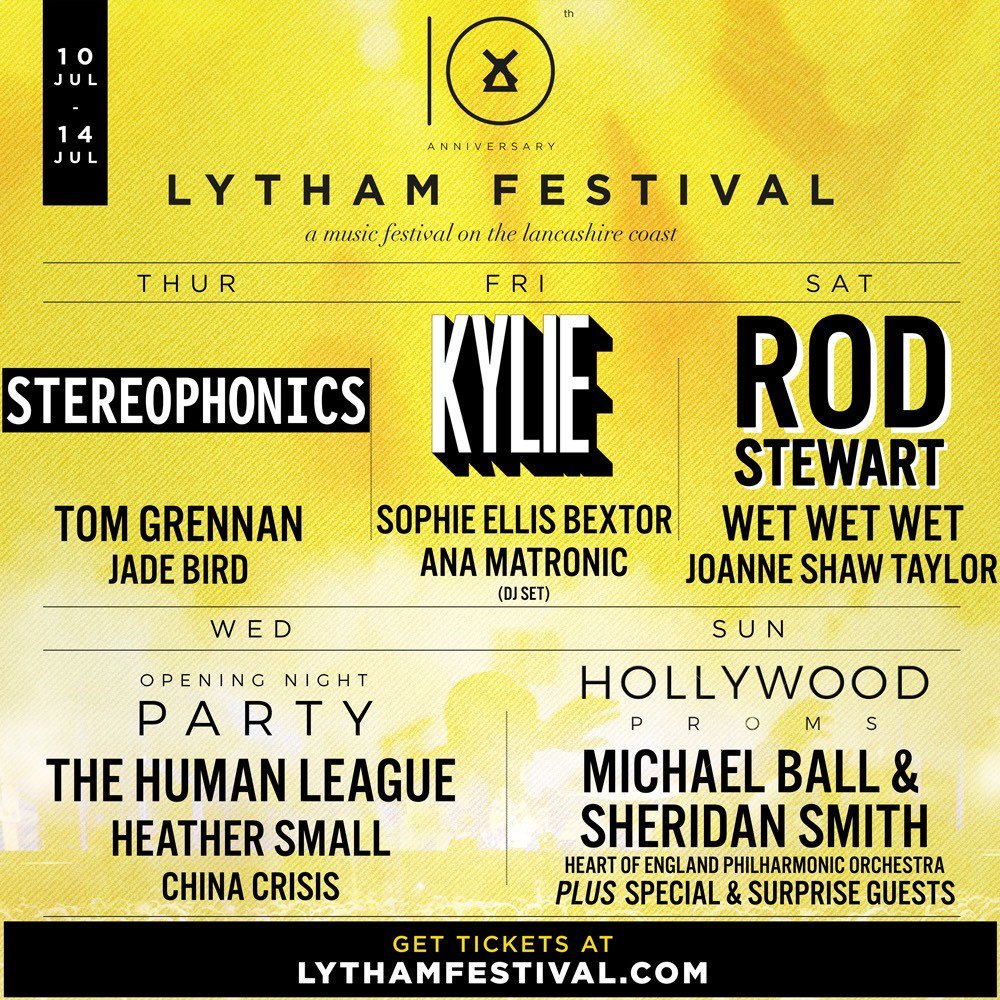 The organisers of Lytham Festival have confirmed their headliners for 2019.
Celebrating their tenth anniversary, the famous festival returns to the Main Proms Arena on Lytham Green from Wednesday 10 to Sunday 14 July 2019.
Headlining the festival will be Rod Stewart, Stereophonics, Kylie Minogue, The Human League, and Hollywood Proms with Sheridan Smith and Michael Ball.
Here are the dates:
10-14 July 2019 – Lytham Festival, Lytham Green,

Five-day passes and Individual day tickets for Lytham Festival are available now through Ticketmaster.co.uk.


Why can't I find my booking on my Ticketmaster account?
As Lytham Festival bookings are now made through the Ticketmaster Front Gate system the booking won't show on your online Ticketmaster account. To check your booking just click here. Then you can either 'Sign In' at the top of the page, with either your email address and password. If you're unsure of what details you used to make the booking click 'Manage Order' and enter your Email address, Order ID and Phone number to find your order. 

When will I receive my tickets?
We've now sent the majority of tickets out for this gig! Don't worry if you don't have yours just yet though – we do send them out in batches, so there are still some tickets that haven't gone out just yet. We'll update this page when all the tickets have gone out. The latest you should receive your tickets is around 5 days before the event, so only contact us then if you still haven't received your tickets.
If you chose secure post, you'll also receive an email from Royal Mail with your tracking info so you can keep an eye on their progress.
Some tickets will be going out by secure delivery - click here for more info!
Why has my friend received their tickets before me?

How do I update my delivery address?
Our new Ticketmaster Front Gate system allows customers to easily update their address details themselves.

To edit Billing details just click here to sign into your account, click Order History, Order Details, Account Details and then Edit Card Info. There you will be able to update your billing card if you have booked deposit tickets, or change your address if you have moved. If your tickets have already been printed then after clicking edit you won't see anything to change, as tickets that haven't been printed yet will let you make amendments to your address.

If you want to just send your tickets to a different shipping address, like your work address, just sign into your account, click Order History, Order Details and at the bottom of the page, you can edit the shipping address and also change the name the tickets are sent to as well. 


Payment Plan
The payment plan option is available to select at the checkout. For more information about the payment plan please click here.

Accessible Tickets
For customers with accessibility needs, accessible tickets are available to buy online.

Age Restrictions
Under 16s must be accompanied by an adult aged 18 and over who has their own ticket. Children aged 2 and under can attend for free and don't require a ticket. All other children must have a full price ticket to enter the concert.