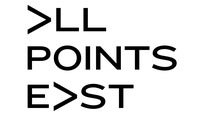 All Points East returns for a four day run from 27th August until 30th August 2021 😎

Below is the current schedule:
Saturday 28th August - Jamie XX + Kano + Tom Misch, slowthai, Little Simz, Arlo Parks, Nubya Garcia, Pa Salieu, Romy, HAAi, Marie Davidson & L'Œil Nu, Fred Again.., Q and seeyousoon.
Sunday 29th August - Field Day featuring a headlining performance from BICEP plus appearances from the likes of Floating Points, Mount Kimbie, Mall Grab and many more.
For more information on ticket dispatch, age restrictions, ticket limits, accessible tickets, booking confirmations, changing your address and more, continue reading.
Ticket Dispatch ✉️
Tickets will be sent closer to the event date, please contact us if you have not received your tickets by 5 days before the event. Tickets for this event are provided directly by the promoter and not printed by Ticketmaster and may not be dispatched until ten days before the event.
Age Restrictions 👶
Anyone under 18 must be accompanied by a parent or guardian (18 or over).
Children under the age of 2 will be admitted free of charge and do not need a ticket.
All children aged 2 and over must have their own ticket.

Accessible Tickets ♿️
Please refer to www.allpointseastfestival.com for further details.
Please ensure you are referring to event specific information as information is by event not venue.
Box Office information is subject to change.

Ticket Limits ⛔️
Please note: There is a ticket Limit of 6 tickets per person and per credit card on this event
Please adhere to published ticket limits. Persons who exceed the ticket limit may have any or all of their orders and tickets cancelled without notice by Ticketmaster in its discretion. This includes orders associated with the same name, e-mail address, billing address, credit card number or other information.

Booking Confirmation 👍
Once you've made your booking you will receive your booking reference number to give us if you have any queries about your booking. You will also get a booking confirmation emailed to the email address you gave us at the time of booking, but this can take up to 72 hours to receive.

**Please make sure that your e-mail address is up to date before making a purchase.**
Changing Address 🏡
When you are booking we need to take the address that your card is registered to for our security checks. However, we can change the address to a non-billing address 72 hours after the booking has been made.
If your address has been changed with the card issuer already and you've just entered the incorrect address, just let us know as soon as you realise the error and we'll correct it for you.

Line Up 🎵
For full line-up information please click here to check on All Points East's official site once its been announced.