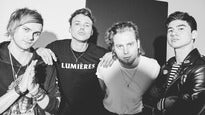 5 Seconds of Summer will be touring the UK on the following dates:

October 23rd - O2 Academy Glasgow
October 24th - O2 Academy Glasgow
October 26th - O2 Apollo Manchester
October 27th - O2 Apollo Manchester
October 29th - O2 Academy Brixton, London
October 30th - Eventim Apollo, London
November 1st - O2 Academy Birmingham
November 2nd - O2 Academy Sheffield


When will I receive my tickets in the post?
We've now dispatched all tickets. So you'll receive your tickets soon if you haven't already. If you still haven't received them by 5 days before your event, please contact us and we'll be happy to help.
For any recent bookings, we'll continue to send tickets out as and when we receive them.

Why can't I print my tickets?
We're still looking at a few final details with the event organisers, so Ticketfast tickets aren't quite ready yet. We're working hard to have this completed as soon as possible and we'll email you as soon as they're available.

Please check back to your account nearer the time and if they're still not available by the week before the event, let us know and we'll make sure we get you in.

How does mobile tickets work?
This is a new way we have started to dispatch tickets where you can present them on your mobile, and they'll be fine to scan in for the event. To see your ticket you will just need to download the app, log into your online account, and you should find the tickets in your order history.

Please be aware these tickets will be available at the same time the Ticketfast tickets are released. So if you can't find them the week before the event, please let us know and we'll happily investigate.

What time is early entry for the sound check package?
You should be receiving an email a few days before the event which gives you all the important information required such as the runtimes and where to report for check in. We will be receiving this information from the event organisers closer to the event, so we kindly ask that you check your emails 3 days before the event before chasing up again with us.

Can I transfer my tickets to friends or family?
This isn't available for all events, but if you have purchased tickets to be dispatched as Ticketfast or mobile tickets then this option should be supported. This will only be activated at the same time the tickets are released for customers to print at home, so please don't be alarmed if you can't transfer just yet. For a quick guide on how to transfer your tickets, just click here.