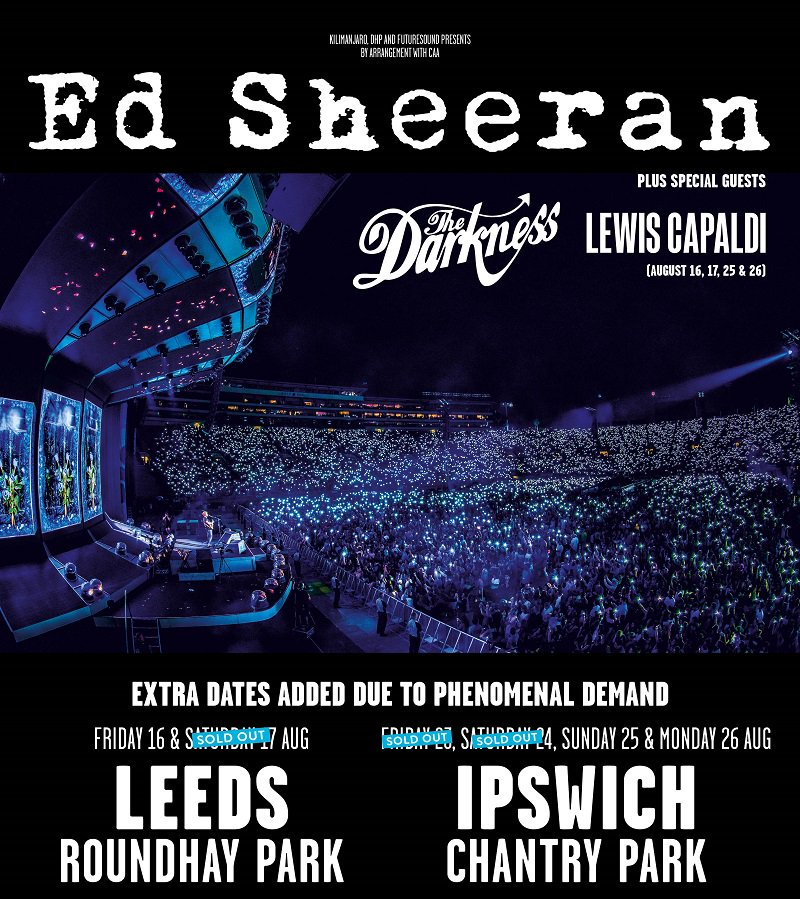 Ed Sheeran has announced four huge headline shows, taking to Leeds and Ipswich in August 2019 on the following dates:

16 August 2019 – Roundhay Park, Leeds*
17 August 2019 – Roundhay Park, Leeds*
23 August 2019 – Chantry Park, Ipswich+
24 August 2019 – Chantry Park, Ipswich+
25 August 2019 – Chantry Park, Ipswich*
26 August 2019 – Chantry Park, Ipswich*


Support comes from The Darkness, Lewis Capaldi* and Passenger+ 
(* Lewis Capaldi on select dates)
(+ Passenger on select dates)


Remaining tickets for Ed Sheeran in Leeds and Ipswich are available now.


Paperless ticketing – what you need to know
The Promoters of Ed Sheeran are committed to combating resale of tickets. Therefore, we are operating a new paperless ticketing system, via our approved outlets.

No tickets will be issued in advance. The payment card used to originally purchase tickets will gain you admission to the show on the day. Upon arrival at the show, you are required to present your original payment card (debit or credit card), original email booking confirmation and a Government-issued photo ID such as a driving license or passport that matches the name on the payment card.

On the night of the event you will need to bring along a printed copy of your confirmation email.

Your ticket into the event is your card so please remember to bring the SAME credit/debit card you used at the time of purchase and some photo ID (such as a driving licence or passport). The name on the ID must match the name on the card in order to verify your purchase.

Your credit/debit card will be swiped as you enter the venue and your details will be confirmed as you make your way in.
For full details on Ed Sheeran's paperless ticketing, click here.

For the full terms and conditions of the tour please, click here.


Can I buy tickets as a gift?
Only the matching ID of the surname of the lead booker will be an entry requirement, the other tickets bought under that name can be given to other people as long as they arrive with the lead booker. The lead booker may also escort gift recipients to the gate for them to gain entry as long as they have the necessary entry requirements.
Please note: Gift cards cannot be used for this event. Bookings can only be with credit or debit card. 


How much will Ed Sheeran tickets cost?
Tickets for Ed Sheeran's newly announced UK dates in Leeds and Ipswich will range from £75 – £85 plus fees.
Roundhay Park tickets are priced at £75 plus fees for general admission.
Chantry Park tickets are £85 plus fees for seats and £75 plus fees for general admission.
Tickets are limited to four per show date.


Accessible Seating
Customers who require either a carer to accompany them or disabled access to the shows should visit Alt Tickets on the dedicated website http://alt.tkts.me/edaccess

BSL available on request for August 17th in Leeds + August 24th Ipswich.


Age Restrictions

Leeds - Under 16s must be accompanied by an adult. No children under 5

Ipswich - Under 16s must be accompanied by an adult. No children under 5


Booking Confirmation
Once you've made your booking you will receive your booking reference number to give us if you have any queries about your booking. You will also get a booking confirmation emailed to the email address you gave us at the time of booking, but this can take up to 72 hours to receive. 

Please make sure that your e-mail address is up to date before making a purchase.


Can I use a gift card?

As these events are entirely paperless, Gift Cards cannot be used for Ed Sheeran's shows. Tickets can only be purchased with a credit or debit card.


My card is due to expire / I've lost my card / my card has been stolen, what do I do?

If your card is due to expire before the events or if you've lost your card, we can update your card details for you. Just give us a call and we'll add the new card details to your order. This means that you can take your new card with you on the night and scan it at the doors, as usual.

Please call us on 0333 321 9999 and select option 2, the lines are open Monday to Friday 9am (9:15am on Mondays) - 8pm and across the weekend 10am- 4pm. You will have to call as we advise you not to email you card details for your own security.


Can I get tickets posted?

This event is entirely paperless, so there are no physical tickets.

On the night, you'll need to take the card that you booked with, your photo ID and the booking confirmation – you just scan your card at the entrance and the staff will check this against your ID as you go in.