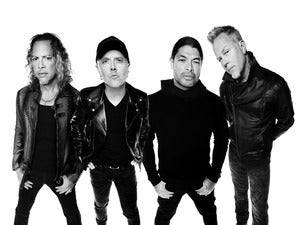 Metallica will be playing the following dates in the UK in June 2019 as part of their WorldWired Tour:

June 18th - Etihad Stadium, Manchester

June 20th - Twickenham Stadium, London

Prices will range from £130 - £60 (London) / £125 - £75 (Manchester)

Support comes from Ghost and Bokassa.


Ticket Limits
Please note: There is a ticket limit of 6 tickets per person and per credit card on this event
Please adhere to published ticket limits. Persons who exceed the ticket limit may have any or all of their orders and tickets cancelled without notice by Ticketmaster in its discretion. This includes orders associated with the same name, e-mail address, billing address, credit card number or other information.

Age Restrictions

Manchester
A child aged under 14 may not enter the Stadium unless accompanied by an adult aged 18 or over, and that child must be in possession of a valid Ticket for the Event they are attending.
Children aged under 12 cannot enter the standing area for the Event and must have a valid ticket for one of the seated areas.
Children aged 14 to 17 may buy a Ticket without the need for an accompanying adult. Only one ticket for a child aged between 14 or 17 may be purchased in a single transaction unless at least one Ticket for a person aged 18 or over is also purchased in that transaction.


London

No under 14s standing on the pitch
All under 16s have to be accompanied by an adult
Babes in arms are strongly discouraged

Accessibility 

Etihad Stadium - 0161 444 1894 then press option 4.

Twickenham Stadium - 0800 988 4440
Twickenham Accessible info:
Blue badge parking included with accessible ticket
Parking available at Tesco across the road from the venue (5 minute walk)
Preferably use Gate D, however can access through all gates
Concourse is fully accessible
Lifts to all areas
Booking Confirmation

Once you've made your booking you will receive your booking reference number to give us if you have any queries about your booking. You will also get a booking confirmation emailed to the email address you gave us at the time of booking, but this can take up to 72 hours to receive. 

Please make sure that your e-mail address is up to date before making a purchase.


Changing Address

When you are booking we need to take the address that your card is registered to for our security checks. However, we can change the address to a non-billing address 72 hours after the booking has been made. 
If your address has been changed with the card issuer already and you've just entered the incorrect address, just let us know as soon as you realise the error and we'll correct it for you.



I need to plan my trip - when will the gig end?

Unfortunately, we won't receive any details regarding the runtime until the sound check has been done, which is usually on the day of the gig.