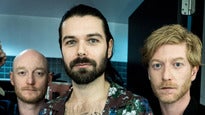 Biffy Clyro will be touring the UK in September 2018 at the following venues:
St Davids Hall, Cardiff - 18th September
Symphony Hall, Birmingham - 19th September
Usher Hall, Edinburgh - 21st September
Opera House, Manchester - 22nd September
Royal Albert Hall, London - 24th September


Ticket Dispatch

Please click here for our up to date dispatch information! Be aware that the latest to expect them is 5 days before the event.

Names on Tickets

This event is for fans only and the following rules are in place to ensure that tickets do not get sold on, ensuring fans do not pay a higher price for their tickets.

Tickets are limited to 2 per person and photo ID will be required to be presented by the lead booker upon arrival at the venue on the night of the show.

The full name of the lead booker will be printed on each ticket. The name cannot be changed once the booking has been made. The lead booker will be asked to present ID to gain entry into the venue.

Where the lead booker is purchasing more than their own ticket, each guest in the party must arrive with the lead booker at the venue on the night of the show. Failure to do so will result in the guests being turned away.

Failure to adhere to the terms and conditions may result in the customers' order being void. There are no exceptions to this rule.


I need to plan my trip - when will the gig end?

Unfortunately, we won't receive any details regarding the runtime until the sound check has been done, which is usually on the day of the gig.