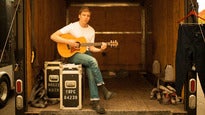 Geroge Ezra will be touring the UK in November 2018 at the following venues:
November 8th - O2 Academy Newcastle

November 9th - Liverpool Su Mountford Hall

November 10th - Bonus Arena, Hull

November 12th - Barrowland, Glasgow

November 13th - Barrowland, Glasgow

November 15th - The SSE Arena, Wembley
NAMES ON TICKETS / PHOTO ID NEEDED UPON ENTRY.
The name of the lead booker will be printed on each ticket.

The lead booker must be in attendance and photo ID checks will be made on entry into the venue. If the ID does not match entry will be refused.

If you are booking more than one ticket your guest must arrive at the concert at the same time as you. Failure to do so will result in the guest being turned away.

Failure to adhere the terms and conditions may result in the customer's order being cancelled.

There are no exceptions to this rule.
Ticket Dispatch

Please click here for our up to date dispatch information! Be aware that the latest to expect them is 5 days before the event.



I need to plan my trip - when will the gig end?

Unfortunately, we won't receive any details regarding the runtime until the sound check has been done, which is usually on the day of the gig.