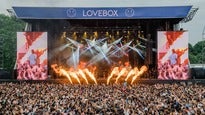 Lovebox have confirmed that the much-loved London festival will return this year.
The festival returns to West London's Gunnersbury Park in 2022.
To keep up to date with the latest news and line-up announcements and more head over to our Lovebox Festival portal
For more information on age restrictions, ticket limits, accessible tickets, booking confirmations, changing your address and more, continue reading.
Please Note
This festival was rescheduled from June 2020. All tickets remain valid from the original dates.
Age Restrictions 👶
Ages 16 & over only will be admitted. Under 18's (16 & 17 yr olds) must be accompanied by a ticketholder aged 18 yrs and over.

Accessible Tickets ♿️
We operate a 2 for 1 (free PA/carer ticket) policy for eligible guests.
Please note we only offer a free carer/PA ticket to those over 12 who have purchased a ticket for themselves.
Any accessibility customers under 12 years of age can go free but must be accompanied by a person over 18 who has purchased a full price ticket.
Please do not book a ticket for your PA/carer as this will not be refunded if you are approved for a free ticket.
How to book accessibility tickets:
Book the required number of ticket(s) (minus PA/carer). Then apply for your PA/carer ticket and submit the supporting documentation required using our Access Requirements Application Form here.
You will then get confirmation of your free PA/carer ticket by return email.
The PA ticket is provided on the expectation that your PA is willing and able to assist you throughout your visit and would be available and able to help you in the event of an evacuation.
More information can be found here.

Booking Confirmation 👍
Once you've made your booking you will receive your booking reference number to give us if you have any queries about your booking. You will also get a booking confirmation emailed to the email address you gave us at the time of booking, but this can take up to 72 hours to receive.

**Please make sure that your email address is up to date before making a purchase.**
Changing Address 🏡
When you are booking we need to take the address that your card is registered to for our security checks. However, we can change the address to a non-billing address 72 hours after the booking has been made.
If your address has been changed with the card issuer already and you've just entered the incorrect address, just let us know as soon as you realise the error and we'll correct it for you.

Line Up 🎵
For full line-up information please click here to visit Lovebox's official website.