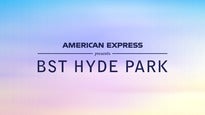 American Express presents BST Hyde Park will return in 2022 🙌
The festival returns to Hyde Park in London.
Below is the current line-up so far:
Friday 24th June - Elton John
Saturday 25th June - The Rolling Stones
Sunday 26th June - Eagles
Friday 1st July - Adele
Saturday 2nd July - Adele
Sunday 3rd July - The Rolling Stones
Friday 8th July - Pearl Jam + Pixies
Saturday 9th July - Pearl Jam + TBC
Sunday 10th July - Duran Duran + Nile Rodgers & CHIC
For more information on ticket dispatch, age restrictions, ticket limits, accessible tickets, booking confirmations, changing your address and more, continue reading.
Please Note
American Express presents BST Hyde Park has been rescheduled from July 2021 to June/July 2022. Customers will be contacted on March 31st regarding new dates.
Ticket Dispatch ✉️
Tickets for BST Hyde Park 2022 will be Mobile tickets (a smartphone is required to access these), and they may not be available to access until closer to the event date.

Age Restrictions 👶
Anyone under 16 must be accompanied by a parent or guardian (18 or over). Children under the age of 2 will be admitted free of charge and do not need a ticket. All children aged 2 and over must have their own ticket.

Ticket Limits ⛔️
There is a ticket Limit of 6 tickets per person and per credit card on these events.
Please adhere to published ticket limits. Persons who exceed the ticket limit may have any or all of their orders and tickets cancelled without notice by Ticketmaster at its discretion. This includes orders associated with the same name, email address, billing address, credit card number or other information.

Accessible Tickets ♿️
For customers with disabilities wishing to book the accessible viewing areas, please visit the festival website or AXS.com.

Booking Confirmation 👍
Once you've made your booking you will receive your booking reference number to give us if you have any queries about your booking. You will also get a booking confirmation emailed to the email address you gave us at the time of booking, but this can take up to 72 hours to receive.

**Please make sure that your email address is up to date before making a purchase.**
Changing Address 🏡
When you are booking we need to take the address that your card is registered to for our security checks. However, we can change the address to a non-billing address 72 hours after the booking has been made.
If your address has been changed with the card issuer already and you've just entered the incorrect address, just let us know as soon as you realise the error and we'll correct it for you.

Line Up 🎵
Full line-up information will be posted on BST Hyde Park's official site once its been announced.

FAQs ❓

For further FAQs about BST Hyde Park, refer to BST Hyde Park's official site.