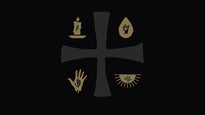 My Chemical Romance will be coming to the UK in May 2022! 🔥
For more information on Ticket dispatch, age restrictions, ticket limits, accessible tickets, booking confirmations & changing your address, continue reading.
Please Note
This tour has been rescheduled from June 2020. All tickets remain valid from the original dates. If you need to query your order, please click here.
Ticket Dispatch ✉️
Tickets for this tour will be eTickets, and they may not be available to download until closer to the date you have booked for. Please contact us if you have not received your tickets by 5 days before the event.

Age Restrictions 👶
Pitch Standing: No Under 14s, Under 16s must be accompanied by an adult 18+.
Reserved Seats: Under 16s accompanied by 18+, No children 5 and under.

Ticket Limits ⛔
A max of four tickets per person and per household applies. Tickets in excess of four will be cancelled.
Please adhere to published ticket limits. Persons who exceed the ticket limit may have any or all of their orders and tickets cancelled without notice by Ticketmaster at its discretion. This includes orders associated with the same name, email address, billing address, credit card number or other information.
Platinum Tickets 🎫
Platinum tickets are being sold for the very first time through Ticketmaster. The prices are adjusted according to supply and demand, similar to how airline tickets and hotel rooms are sold. The goal is to give the most passionate fans fair and safe access to the most in-demand tickets while allowing the artists and everyone involved in staging live events to price tickets closer to their true value. Platinum Tickets aren't part of a package, so the price you're paying is just for the tickets – there aren't any added extras or VIP/hospitality elements to the booking.
Hotel Packages 🏨
We sell Hotel packages on behalf of Sound Travel Group Limited who are solely responsible for delivering the package and the quality of the products and services to be provided. Please see the terms and conditions of Sound Travel by clicking here
Hotel Package check-in time and location info will be emailed out 7-10 days prior to show day. If you have not received this 3 days before the show, please contact Sound Travel immediately. Information provided at the time of purchase (name, email) is the same information that will be utilized for Hotel Package Check-in and individual contact requirements where applicable. Please note: Bedding preferences can be requested but cannot be guaranteed by the hotel. The hotel will accommodate on a first-come first-serve basis as purchasers contact Sound Travel.
Accessible Tickets ♿️
Accessible/ Wheelchair tickets will only be available from Stadium Mk by calling the Box Office Disabled Access line on 01908 828740 or in person from Fri 24th January from 9.30am. PA tickets (free carer) will only be issued with proof of DLA/ PIP or with a valid access card.

Booking Confirmation 👍
Once you've made your booking you will receive your booking reference number to give us if you have any queries about your booking. You will also get a booking confirmation emailed to the email address you gave us at the time of booking, but this can take up to 72 hours to receive.

**Please make sure that your email address is up to date before making a purchase.**

Changing Address 🏡

When you are booking we need to take the address that your card is registered to for our security checks. However, we can change the address to a non-billing address 72 hours after the booking has been made.
If your address has been changed with the card issuer already and you've just entered the incorrect address, just let us know as soon as you realise the error and we'll correct it for you.

I need to plan my trips - when will the gig end? ⌛️

Unfortunately, we won't receive any details regarding the runtime until the sound check has been done, which is usually on the day of the gig.