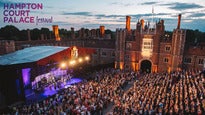 Hampton Court Palace Festival will take place in June 2022 🏛
The following artists will be headlining the event on the following dates:
UB40 Featuring Ali Campbell - 9th June 2022
Elbow – 10th & 11th June 2022
McFly - 15th June 2022
George Benson – 16th June 2022
Jack Savoretti - 17th June 2022
Ministry of Sound Classical - 18th June 2022
Kacey Musgraves - 22nd June 2022
The Human League - 23rd June 2022
Michael Ball & Alfie Boe - 24th June 2022
Crowded House - 25th June 2022
Please Note
Dates have been rescheduled from June 2020. Customers have been contacted on April 1st regarding new dates.
For more information on ticket dispatch, age restrictions, ticket limits, accessible tickets, booking confirmations & changing your address, continue reading.
Ticket Dispatch ✉️
Tickets for this festival will be eTickets (a smartphone is required to access these), and they may not be available to access until closer to the event date.
Age Restrictions 👶
All visitors under 18 years of age must be accompanied by an adult at all times and are not permitted to consume alcohol at the Event.

Ticket Limits ⛔
A max of 10 tickets per person and per household applies. Tickets in excess of 10 will be cancelled.
Please adhere to published ticket limits. Persons who exceed the ticket limit may have any or all of their orders and tickets cancelled without notice by Ticketmaster at its discretion. This includes orders associated with the same name, email address, billing address, credit card number or other information.

Accessible Tickets ♿️
Can be booked online at Ticketmaster.co.uk (subj to availability)
The venue have an elevated platform for wheelchair users and offer a 2 for 1 carer/PA ticketing scheme to provide disabled visitors who require assistance with a free ticket for a partner, accompanying friend or personal assistant (PA), these tickets are subject to availability.
For Wheelchair Access:
• Change 'Ticket Quantity' to 1 Wheelchair ticket
• Then add the 1 Free Companion ticket (the Free Companion ticket, must be added along with the paid Wheelchair ticket).
For Ambulant (Mobility/Easier Access):
• Change 'Ticket Quantity' to 1 Ambulant ticket
• Then add the 1 Free Companion ticket (not valid without accompanied paid ticket and must be added at the time of booking).
By purchasing an Accessible ticket you confirm that you or a member of your party require Accessible tickets. Proof of disability, Personal Independence Payment, Disability Living Allowance Carers/Attendance Allowance/Nimbus Access Credibility Card must be shown on arrival.

Booking Confirmation 👍

Once you've made your booking you will receive your booking reference number to give us if you have any queries about your booking. You will also get a booking confirmation emailed to the email address you gave us at the time of booking, but this can take up to 72 hours to receive.

**Please make sure that your email address is up to date before making a purchase.**

Changing Address 🏡

When you are booking we need to take the address that your card is registered to for our security checks. However, we can change the address to a non-billing address 72 hours after the booking has been made.
If your address has been changed with the card issuer already and you've just entered the incorrect address, just let us know as soon as you realise the error and we'll correct it for you.

I need to plan my trips - when will the gig end? ⌛️

Doors 17:30 Show 21:00.
Unfortunately, we won't receive any details regarding the finish time until the day of the event.

Important Event Info ❗️
As the event takes place within a Historic Royal Palace there are a number of restrictions that all guests are asked to observe:
- Barbecues are not permitted anywhere within the Palace Grounds.
- No hampers, large items or bags are permitted within the concert auditorium.
- A complimentary 'left-picnic' facility will be available within the Palace Gardens while you enjoy the concert.
- No smoking, drinking or eating is permitted inside the Palace including the courtyards and the concert auditorium.
- No audio-visual equipment or umbrellas are permitted to be used once inside the Palace, including the courtyards and the concert auditorium.
- All tickets are allocated seats which includes entrance to the Palace Gardens from 5.30pm. Free car parking is available for all ticket holders from 5pm.
For full line-up information please refer to the official Hampton Court Palace Festival website.

FAQs ❓
What time does the Festival start? ⏰
The formal East Front Gardens open for Festival Ticket Holders from 5.30pm to enjoy pre-concert entertainment, food and drink. The Auditorium opens at 6.30pm.
The concerts usually start at 9pm, however, please check your ticket to confirm your concert start time.

How long does the Concert last? ⌛️
The approximate concert length is 90 minutes with no interval.

Where does the concert take place? 🏛
The performance will take place in Base Court, in a seated auditorium, within the walls of Hampton Court Palace. The venue is an intimate space with great views wherever you are sitting.

Is it an outdoor concert? 🍀
Yes, the concerts are open to the elements and it is an outdoor event. We do offer undercover seating that can be selected at the time of booking. No umbrellas are permitted during the concert and no refunds are offered due to inclement weather.

How do I receive my tickets? 🎟
Tickets are usually E-tickets and are automatically emailed to the email address inputted at the time of booking. If you wish your tickets to be posted to you or would prefer to collect from the venue, please select this at the time of booking (handling fees will apply).

Is there parking at the Festival? 🚘
Yes, we offer complimentary parking facilities a few minutes' walk from the Palace available to Festival patrons only. Festival car parking will be signposted on all major approach roads. Car parks will be open from 5pm onwards on performance days and until one hour after the end of the performance. For drivers using sat nav systems, please enter the postcode KT8 9AU and follow the parking signs for the Festival once in the area.

Accessible Parking? 🚎
There is limited accessible parking spaces in the Palace car park and this is allocated on a first come, first served basis. To book a disabled car parking space please fill in the festivals Accessible Parking Request form.

How can we get to Hampton Court Palace Festival? 🛣
Hampton Court Palace Festival takes place in the grounds of the Palace, please refer to the venues Travel Info page for travel information.

What about Toilet Facilities? 🚽
There are disabled toilet facilities in the East Front Gardens and also within the Palace at the rear of Base Court.

Is there a cloakroom? 🧥
We operate a crèche in the East Front Gardens for items, which can be collected after the concert has finished.

Can I bring my own food and drink? 🍔
The festival is very happy for guests to bring their own food and drinks to enjoy before the concert.
Unfortunately you won't be able to take any of your own food or drink or anything that has been purchased from the East Front into the Palace or auditorium during the concert. However, we provide a complimentary picnic crèche for any left picnic items. There is also several food traders, a Garden Bar and a Champagne PIAFF Bar available within the East Front Gardens.
The Theatre Bar offers a limited, small selection of beverages that can be purchased to take into the concert. The Theatre Bar closes at 9pm and there is no interval to purchase drinks during the performance. Therefore, we advise you to head into Clock Court, where the Theatre Bar is located, around 8.30-8.45pm to give yourself enough time to purchase your concert drinks before the show.
Please see the festivals Food and Drink page for more information.

What happens when it is raining? 💧
Hampton Court Palace Festival is an outdoor event and we are pleased to say, concerts will continue in all weathers. Umbrellas are not allowed to be used during the performance, so we recommend you dress appropriately and bring a waterproof if it looks like rain.