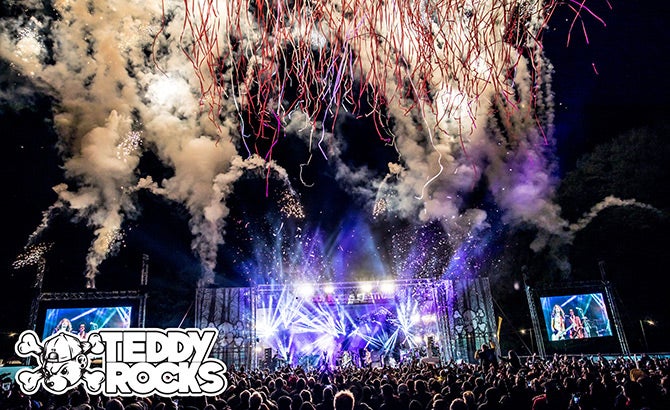 Teddy Rocks Festival will return to Charisworth Farm, Dorset on 29th April - 1st May 2022 🐻
For more information on Ticket dispatch, deposit schemes, age restrictions, ticket limits, accessible tickets, booking confirmations, changing your address and more, continue reading.
Please Note
This festival has been rescheduled from May 2020. All tickets remain valid from the original dates.
Ticket Dispatch ✉️
Tickets will be sent closer to the event date, please contact us if you have not received your tickets by 5 days before the event. Tickets for this event are provided directly by the promoter and not printed by Ticketmaster and may not be dispatched until ten days before the event.
Deposit Schemes 💳
For more info about Deposit Schemes, including all the payment dates, click here.
Age Restrictions 👶
Under 16s may purchase day or weekend tickets but must be accompanied by an adult (aged 21 years or over) on the day.
There must be at least one adult for every four children in a group.
Please note, age will be checked and ID will be required to pick up your wristband(s) at the gate.
Everyone entering the festival, regardless of age, must have a ticket.
No unaccompanied under 16s are allowed on site.
Children 5 yrs and under are admitted free, but must purchase or hold a valid ticket and be accompanied by a paying ticket holder over 21.

Accessible Tickets ♿️
Please purchase your ticket first (minus companion) and then email access@teddyrocks.co.uk with your name and booking reference to apply for your free carer ticket.
Disabled customers are entitled to apply for one free PA/carer ticket.
The carer must be at least 18 years old by 1st May 2020.
For more information about accessibility at the festival, please click here.

Ticket Limits ⛔️
There is a ticket Limit of 6 tickets per person and per credit card on this event
Please adhere to published ticket limits. Persons who exceed the ticket limit may have any or all of their orders and tickets cancelled without notice by Ticketmaster at its discretion. This includes orders associated with the same name, email address, billing address, credit card number or other information.

Booking Confirmation 👍
Once you've made your booking you will receive your booking reference number to give us if you have any queries about your booking. You will also get a booking confirmation emailed to the email address you gave us at the time of booking, but this can take up to 72 hours to receive.

**Please make sure that your email address is up to date before making a purchase.**
Changing Address 🏡
When you are booking we need to take the address that your card is registered to for our security checks. However, we can change the address to a non-billing address 72 hours after the booking has been made.
If your address has been changed with the card issuer already and you've just entered the incorrect address, just let us know as soon as you realise the error and we'll correct it for you.

Car Parking 🚘
Teddy Rocks Festival tickets do not include car parking.
Car park tickets can be purchased online and on arrival. The costs will be £10.00 per vehicle. This is to cover the costs of the car parking infrastructure and staff.
Car parking spaces are limited and will be allocated on a first come basis. Please car share or arrive by taxi or use our provided shuttle services.

Can I bring my camper van / caravan? 🚎
Unfortunately Teddy Rocks is currently unable to support camper vans or caravans. No campervans, caravans, motorhomes or mobile homes are permitted on site. Camping tickets must be purchased.
For more information on camping, checkout our Camping Info section.

Line Up 🎵
For full line-up information please click here to check on Teddy Rock's official site once its been announced.