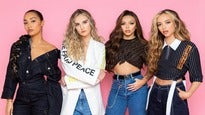 This tour has been cancelled...

The event organisers have been in touch to let us know that Little Mix's upcoming UK tour has been cancelled.

The following statement has been issued:

"Following the latest government advice Little Mix are extremely sad to announce the cancellation of their upcoming UK Summer tour. The band are heartbroken not to perform this Summer, but the health and safety of all Little Mix fans is of course their No. 1 priority.

Tickets bought from Ticketmaster included a £1 donation to music therapy charity Nordoff Robbins, who need donations now more than ever. The £1 donation will still be given to the charity unless requested by the customer.

Little Mix hope everyone stays safe over the next few months and look forward to performing again when the time is right."

Given the extraordinary circumstances, our refund process is taking slightly longer than usual. You don't need to do anything; please rest assured we are working through these as quickly as possible and will issue a refund for your tickets to the method of payment you used to buy your tickets.

If you sold your tickets on our Ticket Exchange, your sale will not go ahead - you will be refunded the cost of your original booking instead.