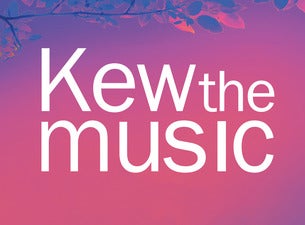 Kew the Music returns to Kew Gardens in London from the 5th to 10th July 2022.
Please Note
These shows were rescheduled from July 2020. All tickets remain valid from the original dates. New dates will be listed below.
This years edition will feature headlining performances from the following artists on the following days:
Tuesday 5th July - Van Morrison
Wednesday 6th July - James Blunt
Thursday 7th July - DJ Spoony: Garage Classical
Friday 8th July - Will Young and James Morrison
Saturday 9th July - Bananarama supported by Gabrielle and Rebecca Ferguson
Sunday 10th July - Gipsy Kings


For more information on Ticket dispatch, age restrictions, ticket limits, accessible tickets, booking confirmations & changing your address, and FAQs continue reading.
Ticket Dispatch ✉️
Tickets for Kew the Music will be Mobile tickets (a smartphone is required to access these), and they may not be available to access until closer to the event date.
Age Restrictions 👶

Under 16s must be accompanied by and adult 18+
Adult Age: 16 years and over
Child Age: 1-16 years
Children Under 1 year do not require a ticket.
Proof of age may be requested.
Customers can buy up to 4 child tickets per adult ticket.

Ticket Limits ⛔️

There is a ticket Limit of 10 tickets per person and per credit card on this event
Please adhere to published ticket limits. Persons who exceed the ticket limit may have any or all of their orders and tickets cancelled without notice by Ticketmaster at its discretion. This includes orders associated with the same name, email address, billing address, credit card number or other information.

Accessible Tickets ♿️
Accessibility information for Kew the Music can be found on their official website.

Booking Confirmation 👍

Once you've made your booking you will receive your booking reference number to give us if you have any queries about your booking. You will also get a booking confirmation emailed to the email address you gave us at the time of booking, but this can take up to 72 hours to receive.

**Please make sure that your email address is up to date before making a purchase.**

Changing Address 🏡

When you are booking we need to take the address that your card is registered to for our security checks. However, we can change the address to a non-billing address 72 hours after the booking has been made.
If your address has been changed with the card issuer already and you've just entered the incorrect address, just let us know as soon as you realise the error and we'll correct it for you.

I need to plan my trips - when will the gigs end? ⌛️

The gates will now open at 5pm to allow for an increased level of security searches. You can find out more at http://kewthemusic.org/security/
The music starts on the stage between 6:40pm and 6:55pm, depending on the day. It can be expected that the headliner will take to the stage between 8:30pm and 9.00pm.
The concerts will finish no later than 10.30pm.
Please note that all times are subject to change without notice.

FAQs ❓

What should I wear? 👚

Casual wear – bring warm clothes for the evening. Please note the grass may be damp or muddy if there has been a large amount of rain; waterproof shoes may be a good idea.

Can I bring a picnic? 🍏
Yes, you may bring your own picnic into the concert arena. Please do not bring tables but, as this is a picnic concert, it is fine to bring blankets and folding chairs.
You are allowed to bring your own alcohol into Kew the Music. You are allowed to bring glass bottles onto site. Please recycle the bottles when finished. Drinking glasses are not permitted on site. Please use plastic, shatterproof drinking cups. This is to protect the wildlife and other concert goers.

I purchased a picnic hamper in advance – where do I need to collect this? 🍐
There will be a collection point within the concert site.

Can I bring a gazebo? ☀
Out of consideration for other concert goers, gazebos and tents are not allowed.

Is there food available to buy? 🍔
Yes, good quality hot food is available and there will be a fully stocked bar, please refer to the Kew the Music website for further details.

Can I bring a camera? 📷
You can bring any camera to the Kew the Music summer concerts for your personal use, except those with a detachable lens (such as SLR or DSLR cameras).

How do I get in? 🤷‍♂️
You may enter via either Victoria Gate or Elizabeth Gate. For customers collecting tickets, please go to the box office at Victoria Gate.

Can I visit the Gardens with my concert ticket? 🌻
Your concert ticket for Kew the Music does not include entry to Kew Gardens outside of the concert area and timings. If you wish to visit Kew Gardens, you will need to purchase a separate Kew Gardens entry ticket from the Gardens directly. You can do so via their website.
If you wish to visit the Gardens on the day of the concert, you will still be required to exit the Gardens and re-enter for the concert.

What if it is raining on the night? ☔️
The performers are on a covered stage and the concert will go ahead. Only in extreme conditions, and where a question of health and safety is involved, would the concert be cancelled. Please ensure you bring adequate clothing for the weather conditions.