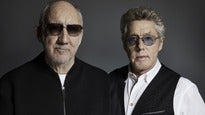 This tour has been cancelled...

The event organisers have been in touch to let us know that The Who's upcoming UK tour has been cancelled.

You don't need to do anything; please rest assured we are working through these as quickly as possible and will issue a refund for your tickets to the method of payment you used to buy your tickets.
What if I've closed my account or had a new card?
If your bank account has closed or you've had a replacement card and the refund still isn't appearing in your account after 15 days, please contact your card issuer. They'll be holding the funds for you and will be able to arrange a transfer to your new account. Unfortunately, we can't reclaim the money and issue the refund to a new card for you.
If you sold your tickets on our Ticket Exchange, your sale will not go ahead - you will be refunded the cost of your original booking instead.